Increase Engagement and Retention
With Mirro's Employee Experience Platform
Foster a sense of belonging and community into your hybrid workplace. Retain your talent and keep engagement levels high.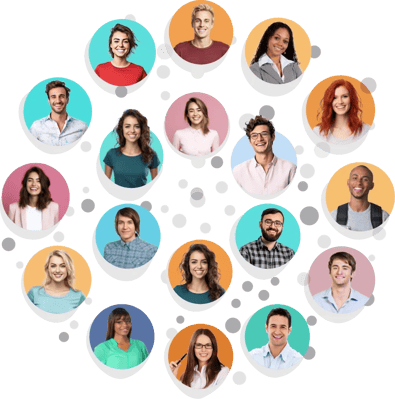 Keep your teams connected with Mirro,
the leading employee retention software
Engaged people perform 20% better and are 87% less inclined to leave the company. With Mirro's employee experience platform, you can keep your teams connected and engaged no matter where they are.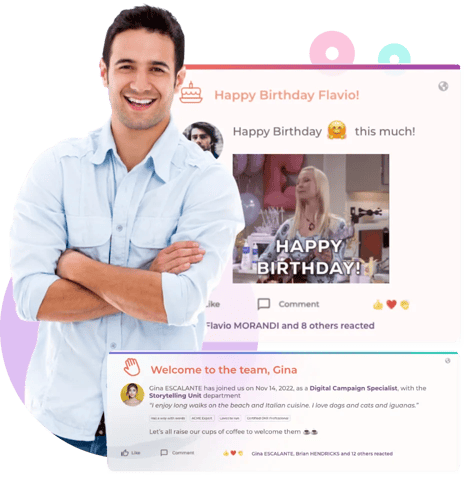 Put the "social" and "community" back into work relations and teamwork
In the age of the great disconnect, put the unity back into your community with Mirro! Set the stage to fuel connections and bring your team together without having distances and time zones get in the way.
Recognize results and celebrate successes together;

Have clear, actionable steps for easier onboarding and guide first interactions;

Keep everyone up to date with achievements, work anniversaries, birthdays, company announcements, and promotions;

Get to know each other through personalized user profiles.
Gain insights on how individuals engage, excel, connect, and belong
3 in 4 disengaged people are actively seeking a new job. Plus, companies with highly engaged teams are 21% more profitable than others. With Mirro, you get timely insights to improve employee experience and retention and preempt disengagement.
Address gaps in employee engagement and productivity and start acting on them before it's too late;

Find the connectors, outliers, and secluded teams in your company and use the data in succession planning;

Take preventive actions by analyzing growth indicators and detecting spikes in new hires or leaves;

Help prevent burnout and plan for long-term employee retention by discovering the length of service for your current team.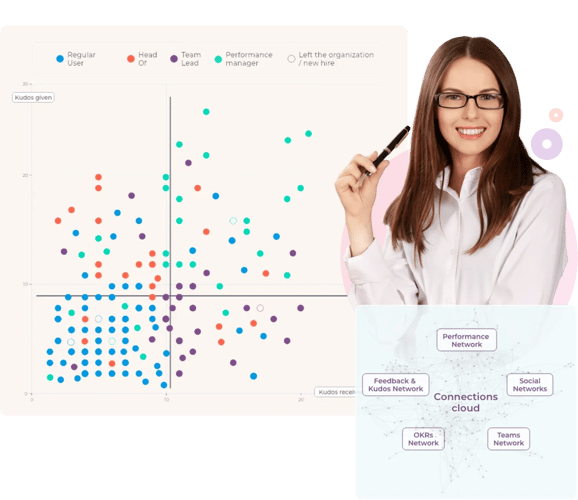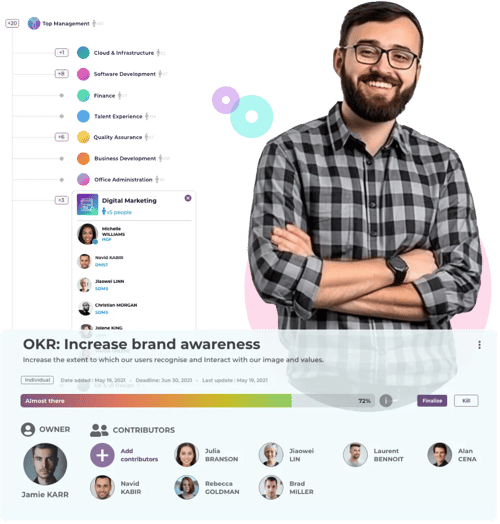 Empower your people to reach their full potential
People who feel in control of their careers are 20% more likely to stay. Mirro's HCM platform sets the stage for a positive employee experience: plan for growth, celebrate success, share the limelight, and get the recognition you deserve, all in one place.
Have meaningful, frequent conversations and help people drive their career growth;

Give and ask for feedback from anyone in your organization and from external collaborators;

Publicly recognize a job well done through Kudos;

Fuel transparency and alignment by connecting individual achievement to organizational success through OKRs.
Create a diverse and inclusive workplace
As your culture evolves to embrace diversity and inclusion, Mirro is here to help you retain your best talent through state-of-the-art
features, data, and metrics.
Easily see age, generational, and gender distribution across the company or at the department level;

Discover and close pay gaps within your company through compensation management and analysis software;

Lower your high turnover by knowing pay rise frequency and act accordingly to prevent people from leaving;

Cherish each individual and give everyone a presence and voice from wherever they work, shining a light on their activities and accomplishments.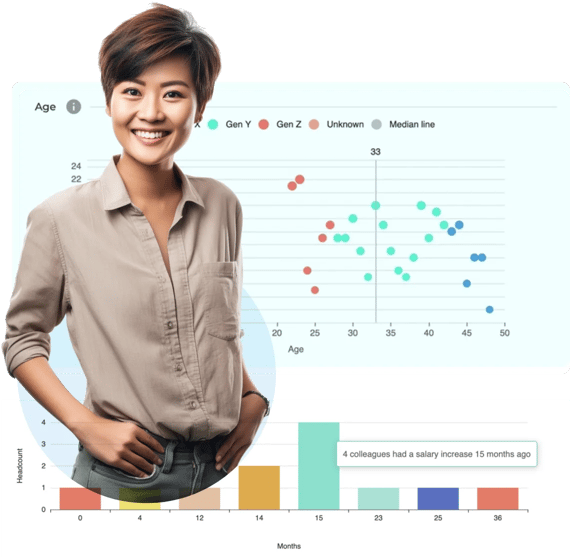 Do you want to engage your entire organization with a single software solution?

Explore the Mirro Resources
Important workplace and team information are at my fingertips all the time. Documentation, objectives, hr tools, and valuable feedback are all accessible in one platform. As a remote worker, the biggest benefit is seeing the big picture. Initially, I often felt isolated, now I'm starting to get to know other teams apart from my own.
Eniko Szucs
Senior Customer Relationship Agent
Helps me keep the track of everything I do or my colleagues do. I can book my holidays online. The design is very friendly. Helps with planning my free time and holidays.
Not stressing out to write down somewhere how many paid days I have left. I can keep track of the time I spent working.
Madalin Gavrila
Telesales Representative
Mirro is loved by users worldwide