How to make remote work easier with Mirro
Published:
November 19, 2020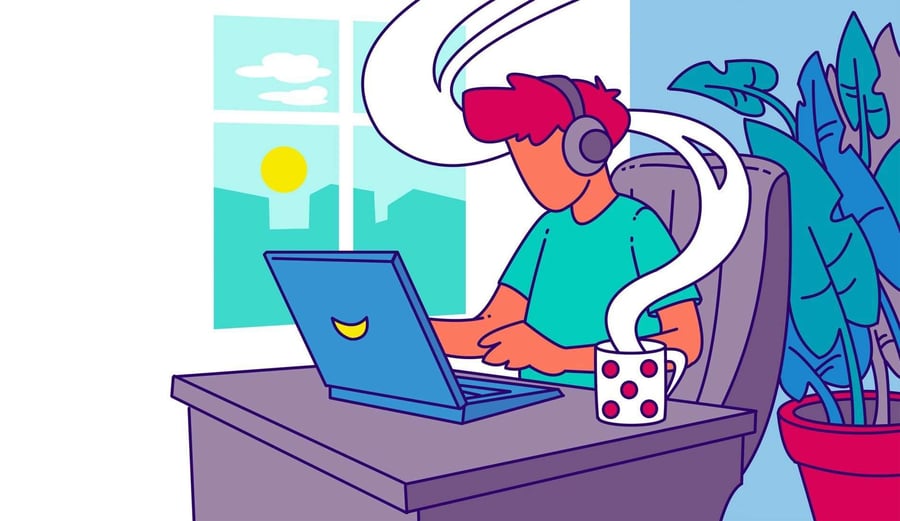 When we created Mirro, we envisioned a performance management platform that would work efficiently for team members, wherever they are. Thus, ever since its first days, Mirro was intended as a tool for connecting colleagues and making them feel more integrated, even if they never actually had the chance to physically interact with one another. Now, more than ever, as social distancing is becoming the norm and remote work is replacing the more traditional office, Mirro's features are becoming more and more in demand.
Five ways in which Mirro can simplify remote work
We put the pen to the paper and came up with five main ways in which Mirro's features can simplify our work when we are working from home. Here they are, ready to inspire you:
Set up clear objectives, with an easy-to-follow progress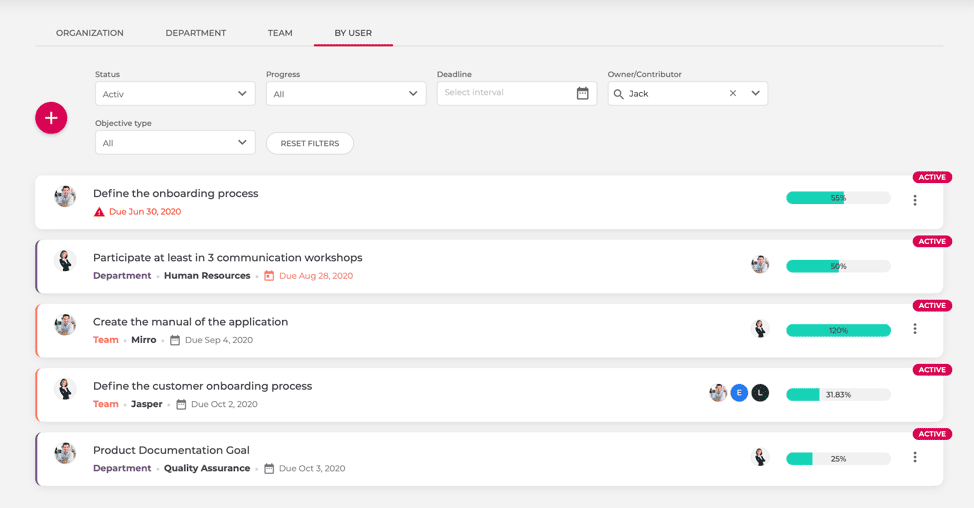 We created the Objectives feature in Mirro after the Key Results framework, believed to be the winning approach to keeping teams connected and aligned towards the same results. OKRs are a great way to improve team cohesion and boost individual motivation.
How? If you are managing a remote team, constantly touch base with your colleagues, discuss blockers, and encourage people to find solutions. On a personal level, do the same exercise, all while asking yourself the same questions.
Don't forget to regularly check objectives as a way to always keep the big picture in mind, because we know that working from home can come with numerous distractions. Having them written down in a user-friendly tool makes them easier to follow.
Keep up with the latest accomplishments and anniversaries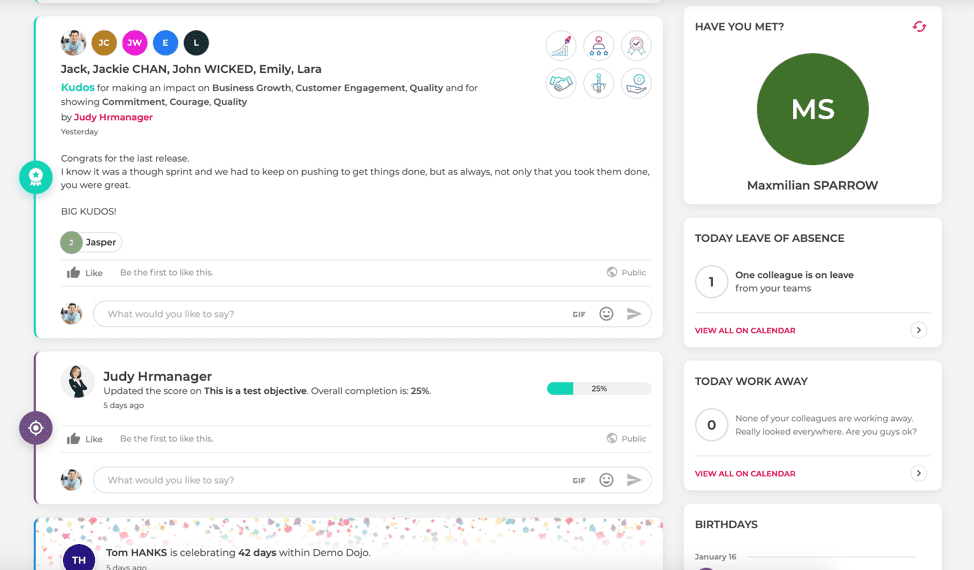 Take a step back from your daily to-do list and enjoy a break for socializing. Your Mirro activity feed is simply packed with reasons to celebrate: work anniversaries, kudos, and even birthdays, too. Celebrating is easier if you never have to worry about missing a date.
Plus, kudos are a great way to give thanks and show appreciation, in a way that encourages others to do the same. This also inspires a more collaborative environment, as team members will become more aware of how everyone in the company is doing their part.
Know who to count on, when and where from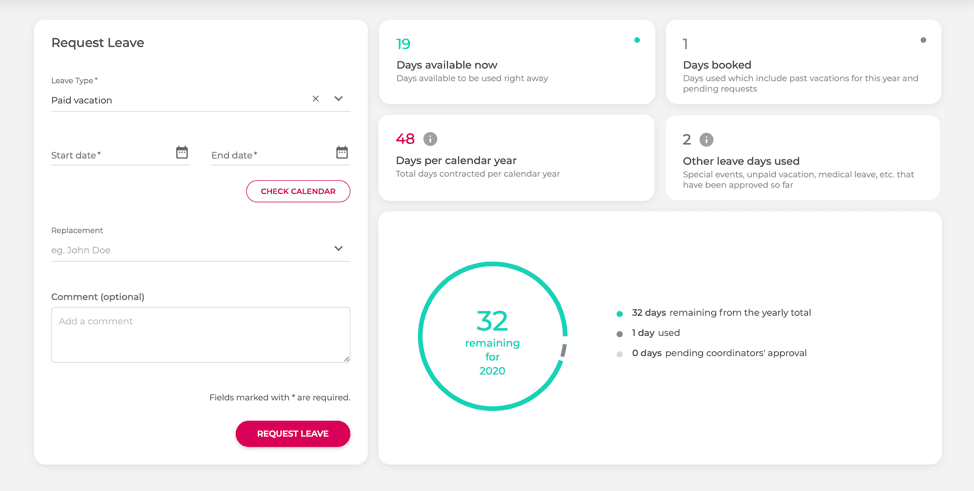 As a team leader, but not only, it's very important to know if you can count on the help of a colleague or not. Mirro shows exactly who is on vacation and when, a piece of information very well synchronized with the calendars used by the individual - Gmail, Outlook, etc.
Moreover, Mirro's employee leave management system shows who is working from home or from the office - you never know when you need access to a tool available only at the company's headquarters. Like this, you can find out exactly who to reach out to!
Give feedback more easily and in a balanced way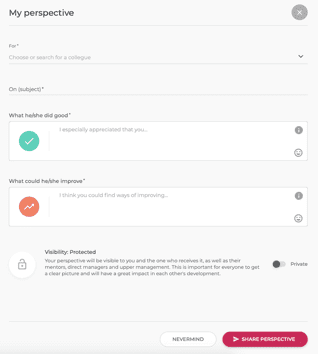 Mirro turns the feedback process into routine by making it easy, as it offers the possibility to provide user-friendly input in an easy-to-fill form. This form balances both positive and constructive aspects, and thus sets the tone for self-improvement.
Also, Mirro lets users ask for perspectives, driving the feedback process themselves. All this input is made available privately, so no one needs to worry about prying eyes.
Make performance check-ins an easy task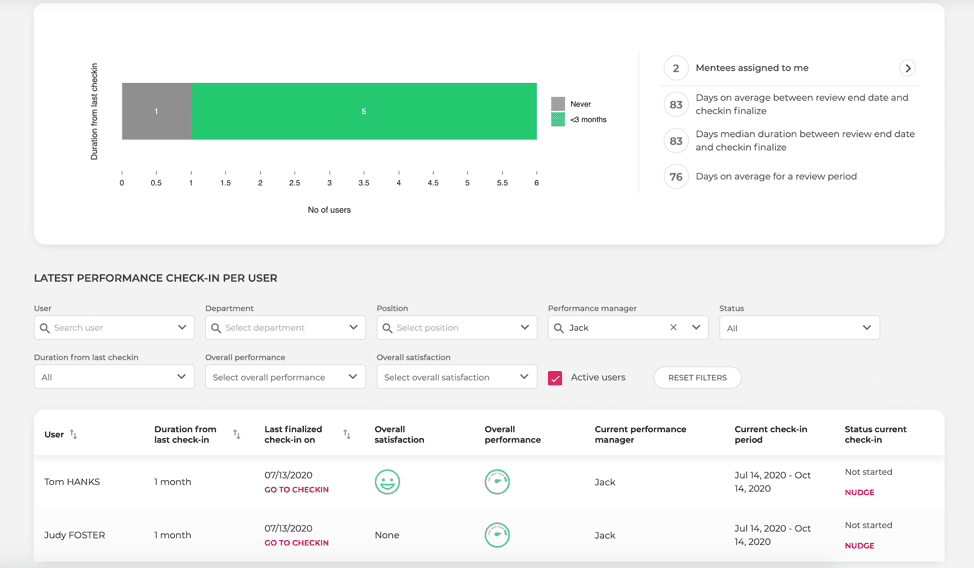 With Mirro, performance check-ins are no longer a formality. They become a friendly conversation between managers and their team members, who can decide to set them as regularly as they desire.
Reminders are sent in time so that everyone has time to prepare. Well, not that many preparations are needed - because asking for feedback is already part of the routine, and setting up goals is also a great way to get organized better.
Tips and tricks from our colleagues
As the developers of Mirro, we're also its most dedicated "fans". So we asked around in Zitec, the company that created Mirro, and we found three of its most adept users: Ana Ciupercă, scrum master, Costinela Nistor, marketing manager, and Adina Nichitean, head of eCommerce. We asked them how Mirro has been helping them, especially after March 2020, when remote work became the norm for the company.
Our colleagues came with useful, first-hand insights about Mirro, both on a personal and team level. Ana separated the two aspects very clearly and emphasized the importance of objectives and the possibility to constantly have a grasp of vacations. Even knowing whether colleagues are at the office or not can come in handy. But let's pass the microphone to Ana, for further details:
"On a personal level, Mirro helps me set clear objectives, well aligned with the general business perspective, which I can keep track of, either individually or in a team. I like the fact that it also gives visibility to other team members and allows us to collaborate where actions either intersect, or one simply needs to ask for help from others who have identical or similar objectives to yours. Moreover, I find it easier to self-evaluate and discuss my performance with my manager.
From a team point of view, I can say that Mirro, especially during these times of social distancing and remote work, is a must-have. Not only does it help me manage my team better, by giving me information about colleagues who are on leave or who are working from the company offices, so they can help with certain tasks that can be done on location, but it's also a great tool for staying connected. The fact that we can thank each other through kudos, or that we can learn about our colleagues' promotions or anniversaries, is our method to permanently stay in contact." (Ana Ciupercă, scrum master at Zitec)
Costinela on the other hand highlighted another important point which makes remote work easier for those using Mirro: celebrating and appreciating each other's efforts!
"Especially since the pandemic started, I've been using Mirro to set and stay aligned both on company goals and on my marketing team goals, while also recognizing and celebrating our results. Moreover, since we all work from home and it's more complicated now to interact with my colleagues, I've been using the Kudos feature to show my appreciation and constantly share feedback with them. This way, I feel like we're all more connected and we can highlight the strengths of a project or make suggestions for improvement when needed." (Costinela Nistor, marketing manager at Zitec)
Last but not least, Adina made sure to mention other important features for remote work: feedback, for instance. As you may know, Mirro gives feedback a balanced approach, encouraging people to always mention positive aspects too, apart from those they would like to improve.
"The last couple of months have been for sure difficult for all of us, but it also reminded me that I work with an incredible team. Working remotely is not new to us, but everyone working from home for sure was. The most important things for us were to make sure we are in sync; we focus on the same objectives and we received feedback on your work. Luckily, we use an amazing tool that makes our journey a lot easier, Mirro. The OKRs, feedback, and kudos features helped us a lot to have an overview of our journey, adjust and improve it, and celebrate our achievements." (Adina Nichitean, head of eCommerce at Zitec)
How has Mirro simplified your remote work?
As usual, we'd love to hear from you. You've heard from our most avid users, now it's your turn to speak up.
What helped you the most while working from home? Was it the option to set goals and follow their progress, give feedback to colleagues in a balanced way, keep track of vacations easier or the chance to never miss an accomplishment or kudos from a colleague?
Just drop us a line in the comment section below - we're all eyes.
Oh, and ff you're not a Mirro user, all these details may need a bit more background, so we're happy to provide it! Simply schedule a free demo with us, and we'll make sure no question remains unanswered.