1:1 Meetings: Your Ultimate Guide to Productive Get-Togethers with Your Manager

Published:
February 16, 2021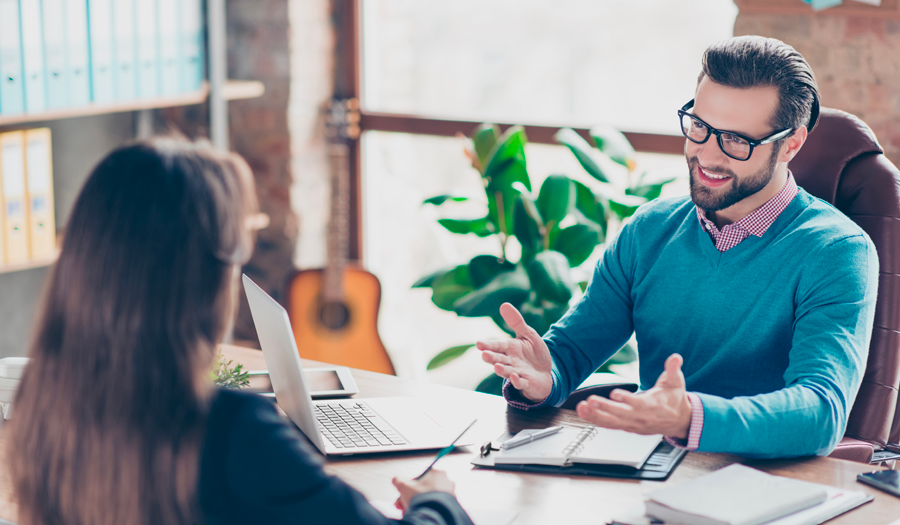 Here at Mirro, one-on-one meetings (1:1s) are a common practice, and there's a good reason for having them regularly on our calendars. 1:1 meetings are an excellent way to build a solid relationship with your manager, collect feedback, and plan for career development.
If you're reading this article, you're probably looking for guidance with this type of meeting. And you might be in luck because I'm convinced 1:1 meetings don't have to be an exercise in mutual misery.
One-on-ones can help you bond with your peers and make work more pleasant. And trust me, things like stand-ups, team-building exercises, or official performance reviews have nothing on 1:1s!
So, let me tell you all about 1:1 meetings and how to make them efficient. It's time to turn your nays into yays and enjoy some quality time with your manager!
What are 1:1 meetings?
1-on-1 meetings refer to regular check-ins between two individuals in an organization, usually managers and their mentees. Unlike other types of meetings, 1:1s provide feedback, keep everyone updated, address problems, and assist the employees in advancing in their positions.
Formally, 1:1s have their roots in the 20th century, when modern management began developing. If you're looking for their father figure, it's Andrew Grove, the late Intel CEO. He's the one who popularized the concept in his 1985 book, High Output Management. And even though that book is now more than 35 years old, it still stands and gets referenced a lot.
Nowadays, 1-to-1 meetings are anticipated conversations with a manager. They're guided by open-ended questions and cover everything from professional to personal issues.
And it's fair to say they can also be quite polarizing topics.
1:1 meetings should be understanding, free-form, and personal. You can already tell why some managers would like to avoid 1:1s. They require serious time investments, excellent coaching, mentoring skills, an open mind, and the ability to have honest, difficult conversations. And being that human or showing appreciation at work isn't always easy.
What is the purpose of 1-on-1 meetings?
The primary objective of 1:1 meetings is to coach employees and give them the support they need to do their jobs as effectively as possible.
According to Gallup, employees who have regular 1:1 meetings with their managers are three times more likely to be engaged at work. Additionally, people are 3.2 more likely to be happy at work when they feel seen, as per LinkedIn.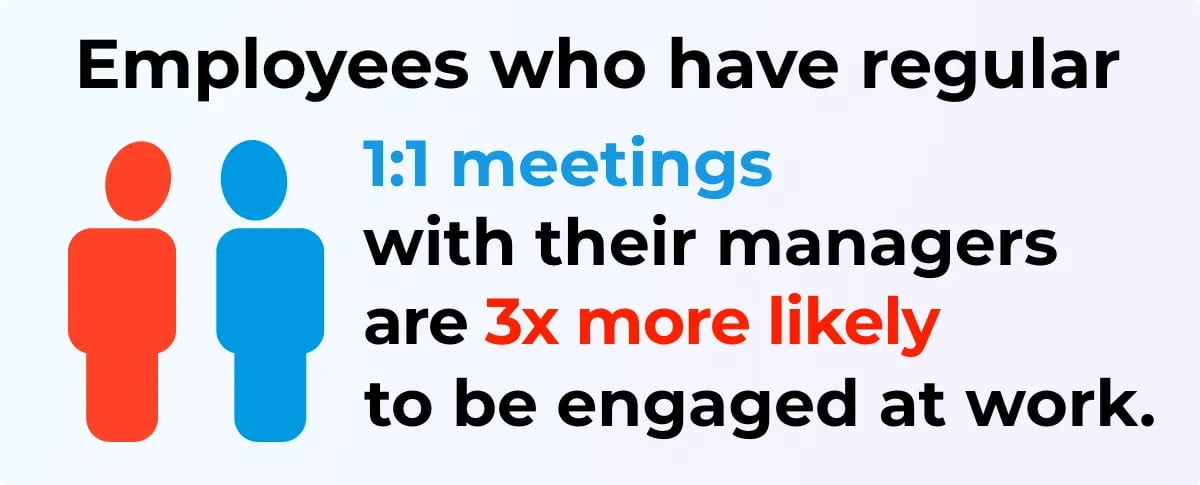 1-to-1 meetings represent the perfect opportunity for managers to have meaningful, honest dialogues with their employees. Managers can take the pulse of how their people feel, and identify potential risks to engagement.
Here are some topics you can cover during 1:1s:
Give and receive feedback;
Receive timely updates on important projects;
Use coaching to enhance performance;
Discuss professional development;
Encourage employees and give them recognition;
Deepen the relationship with your employees;
Measure the level of job satisfaction;
Determine next steps for improvement;
Summarize team meetings, important topics of discussion, and due dates for important projects.
What are the benefits of 1:1 meetings?
1:1s are vital to the health of any company and can significantly improve the working life of managers and employees. People need such dedicated spaces to express themselves, even when their managers already have an open-door policy.
According to Gallup, the manager determines 70% of the variance in team engagement. 1:1 meetings can reduce this risk by giving managers timely information on what drives their team members.
Here are some of the most notable benefits 1:1 meetings have:
They build strong working relationships.

1:1 provide a dedicated time for managers and their mentees to connect and communicate with each other. These meetings allow for the exchange of feedback, ideas, and concerns more personally and meaningfully than in larger group settings, creating an atmosphere of trust and transparency.

They allow sharing feedback, discussing performance, and pinpointing roadblocks.

Employees are honest when they feel trusted by their managers. Regular and frequent check-ins foster a feedback culture within the company, helping spot any issues and discussing the potential solutions for overcoming them.

They boost engagement, productivity, and motivation.

1:1s allow employees to discuss freely with their managers and understand how they fit into the organization. This personalized approach to management helps individuals feel valued and appreciated, leading to increased motivation and a sense of purpose in their work.
Music to everyone's ears, right?
So, if you have to pick one meeting to keep on your calendar, make it your 1:1. The benefits make it all worth it. And no worries, I got you covered with all the details. So, if you're ready to fall in love with 1:1 meetings, let's start working on your framework and mindset, aka the magical ingredients for chats with your manager.
Six tactics to have effective 1:1 meetings
There's no one perfect recipe for 1:1 meetings. Every company, every team, and every manager-individual contributor dynamic is different. However, here are seven things you can do to have your 1:1s meet your professional and personal needs.
1. Make 1:1s a habit
The number one rule for 1:1s is that they need to happen regularly. Like any relationship, building trust with your manager and building rapport with them takes time and involvement.
Put your 1:1s on the calendar and treat them as essential. And once you have a couple of good ones, I bet you'll realize why so many people, myself included, say they're the most important meetings you can have.
Of course, life sometimes goes differently than planned. If you want to cancel a 1:1, don't. Reschedule instead. Downright canceling could signal your manager that the meetings are not important or beneficial to you, potentially leading to a complete stop.
The same also goes for your manager. If a declined invitation lands in your inbox, reschedule it as soon as possible and address the issues in the next 1:1 meeting.
Regarding frequency, there's no one-fits-all number for 1:1s; don't schedule them too far apart. They can happen weekly, twice, or once a month, and it all depends on your needs.
For example, when you're new on a team and need to learn the ropes fast, a weekly 1:1 shortens your feedback loop and gets you on track quicker. Likewise, when you're familiar with the company's inner workings and feel more comfortable, you can see your manager in a private setup less often.
2. Demand and expect a safe space
Without honesty and the confidence to speak your mind, there's no chance of a productive meeting with your manager.
So, change your perspective. Forget about the dynamic for a bit, and step into your power. During your 1:1, you're the star, and it's all about you and what you got to say.
In the beginning, it might be challenging to bring up any thorny issue. But, if you start small and see there's no judgment coming your way, it'll build up your confidence and cement your relationship with your boss.
To foster a psychologically safe space, you can also expect your manager to:
Listen to what otherwise would go unsaid;

Respect you as a person and your right to highlight problems;

Be your ally in getting to the root cause of problems;

Hone in transparency and honesty;

Address your concerns;

Be on your side and fully support you;

Highlight learning opportunities for you;

Encourage a problem-solving mindset;

Stimulate your creative thinking.
It's unrealistic to expect yourself to check your emotions at the door when you're at work. So take the opportunity to be candid during your 1:1s.
And since we're on the topic of space, there's also the physical aspect of it. When not online, be mindful of where your 1:1s are taking place and tailor the location to your needs. For example, a private meeting room can be fine, but sometimes you can relax and take your conversation to a common lounge area or outside the office.
3. Come with an agenda
"During the meeting, since it's the employee's meeting, the manager should do 10 percent of the talking and 90 percent of the listening. Note that this is the opposite of most one-on-ones."

Ben Horowitz
If you want a productive 1:1 meeting, you must prepare for it and have an agenda. A plan helps ensure everything that matters to you gets the time of day, and things stay caught up. Do your due diligence and write things down as they come up for you during the week instead of trying to put together a list at the last minute.
The consensus is that you should share your agenda with your manager before the 1:1. This sets the stage for your conversation and allows you to get straight to it without presenting background info on your topics. Agendas are also great for keeping track of everything you've discussed during meetings and can help you organize your notes.
However, don't make things too formal, and allow for flexibility. It's perfectly fine to spend a meeting sharing personal stories and bonding. But when there's something specific you want to discuss, having a list can make a big difference.
4. Discuss your career and personal growth
There is no better time to discuss your career and personal growth than your 1:1 meeting. These personal topics don't fit into any other context, so put them on your agenda and talk them over regularly with your manager.
What's next for you? How are you growing towards your objectives in your current role? Can your manager assign any projects or responsibilities to get you there?
Being open about your goals has some benefits, as it helps your manager adjust your workload and present you with opportunities that otherwise wouldn't come your way. Plus, if you keep your development on the agenda, you can spot when things are stalling and address them fast before they translate into a bad performance review.
5. Ask how you can help
If you want to diversify your tasks and your skillset, ask your manager how you could help. This comes particularly handy when you're part of a big team. For example, does your manager feel they're up to date with your work? Are they juggling too many projects and could offload some to you? Is there a colleague who needs your expertise?
Such an approach builds trust between you and your manager and opens some doors for you. Leadership skills, here you come! Plus, a little empathy goes a long way, and you probably know from your own experience how much of a difference a little help can make.
6. Keep track of everything that's discussed
After talking about agendas and preparing for your 1:1 meeting, it's time for some taking notes tips. As good as you think you are, rely on something other than your memory regarding your 1:1 meetings.
You're guaranteed to have some things slip your mind and never get addressed. The solution is straightforward: take notes, and encourage your manager to do the same. Then, after your meeting ends, put all the takeaways in a shared document. This will get you on the same page, figuratively and literally.
A bonus is that note-taking also simplifies your next 1-to-1 meeting. With everything neatly arranged in one place, it's easier to follow up on your to-do list and record your progress. Win-win! Moreover, this simplifies your next one-to-one, making it easy to follow up on your to-do list and record your progress.
Questions to consider before your next 1:1 meeting
As promised, you can get all the inspiration for your next 1:1 right here. It's important to clarify what you want from your conversation, so I've compiled a list of questions for you. They'll help you build your agenda and identify the areas that need attention.
Questions for 1:1 meetings with your mentees
How do you feel throughout the day at work?

What is one thing you have learned since our last conversation?

What achievements have you had lately? What is the project you have worked on that you are most proud of?

Is there anything blocking you?

How did the prior objectives go?

Let's have a look at current objectives and discuss personal development goals.

Which skills would you like to improve?

Based on recent feedback, are there any areas you would like to develop further?

Do you need any support? Can I do anything as a manager to support you in your role?
Questions for 1:1 meetings with your manager
Could you provide me some ideas on how I may balance my work as I deal with this situation?
Could I take over the training duties now that we have a new team member?
I'm not convinced [colleague] and I would make good working partners for this project. Do you believe I can work more independently?
I feel like I'm putting too much time into this project at the expense of other obligations. Can you help me tackle this situation?
Do you have any feedback for me regarding this project?
I've had trouble recently coming up with ideas to solve this issue. Can you help me brainstorm some ideas?
I would like to be promoted this year. Can you help me find a plan for my career advancement?
I would like to continue working on this skill. Do we have any resources available that could help me?
I would like to take on more responsibility. Can we discuss my tasks and see if we can find room for this project?
Make 1:1 meetings a breeze with Mirro
For having great 1:1 meetings that leave me feeling connected and in the know, I rely on Mirro.
This all-in-one performance management software helps me be productive and make the most of this precious meeting time.
With Mirro, I can drive growth and focus on what truly matters. I use it to:
Make sure onboarding is going smoothly;
Have established check-in routines with both my manager and team;
Find out how people on my team would describe their recent results and learn all about their insights;
Discover what they'd like to improve and achieve next;
Inquire how I could support them;
Their satisfaction level in their current role;
Track progress and see how far along we've come;
Balance workloads and go for stretch goals;
Share updates with people in the company.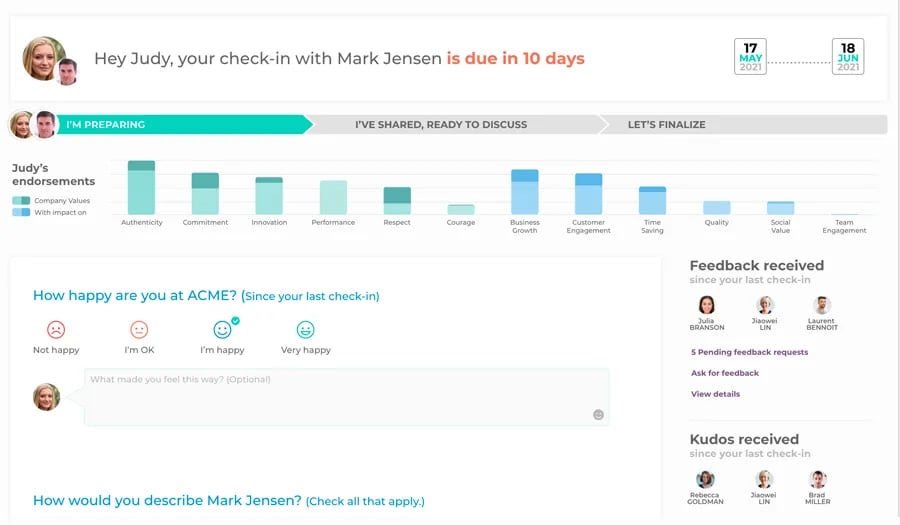 And because all of these translate to a more streamlined work-life, Mirro has even made my remote working more bearable. Having Mirro as a sidekick means I can now get everyone in sync, nurture my team, and fuel a culture of growth and transparency. Which, to be honest has been a dream turned into reality.
If you, too, want to reach new performance peaks and have some great 1:1 meetings, check out Mirro. Book a demo now and send your productivity through the roof.
I hope you've enjoyed all the 1:1 tips and tricks I've shared here. At the end of the day, the key to good 1:1 meetings is having them often and tailoring them to your needs. They don't have to be perfect immediately, and I'm sure you'll get the hang of them soon.
Share your thoughts regularly with your manager, hone in your power, and take advantage of smart platforms like Mirro to really shine.