Business digitalization strategies and their importance in the "work from home" era

Published:
February 4, 2022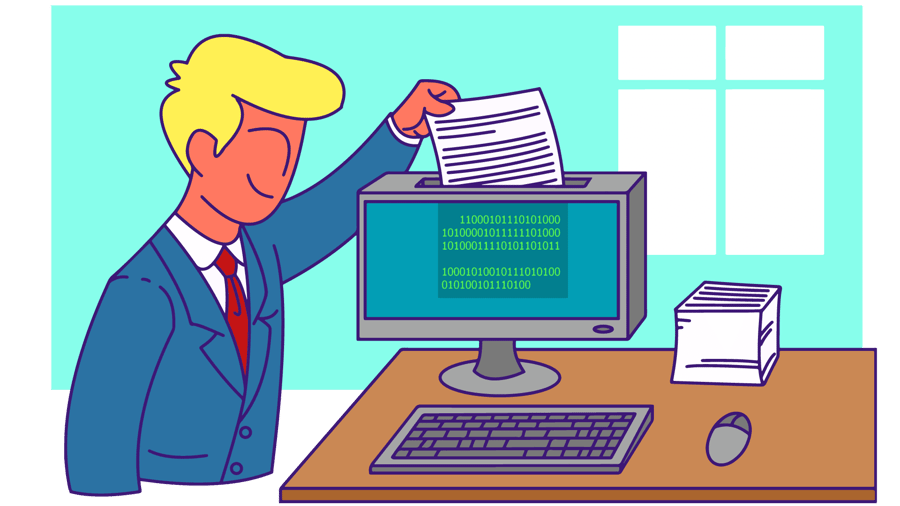 This decade began with an unexpected shift: working from home has become a common activity. Because it is faster, more secure and cheaper. So, now businesses are starting to pay more and more attention to digitalization, whether or not they have a virtual presence.
This phenomenon has also been accelerated by the global context that has made most entrepreneurs rethink their businesses. The world has moved online and this is a new reality.
Summary
Business digitalization: Why is it essential in a modern world?
Digitalization in business: 3 strategies to start your company's digital journey
1. Business digitization: Why is it essential in a modern world?
Nowadays, if you want to have access to the global market, all you need is a laptop, a good internet connection and some great ideas. To keep up with the rapid changes taking place in the market, the modern entrepreneur must be flexible, creative and open-minded.
Of course, the digitalization of your business does not only refer to a constant presence on the Internet, but it also represents a rigorous transformation process, which can positively influence the company. But a digitization process requires a meticulous strategy if you want to obtain the desired results.
So, when starting this change for the company, it is important to set your objectives, pay attention to the competition and help those who work from home to keep up with the company's values.
So, here are the benefits you need to know about this major change:
Can bring you more profit - according to a recent study, businesses that have adopted digital tools and programs generated more profit. Through business digitalization, you will be able to test and see what needs to be improved in order to quickly reach your goals. Moreover, digitizing the company's processes greatly reduces workload, so your colleagues can focus more on important tasks that can lead to the financial success of the business.
Centralized documents and data - by digitizing procedures your company has all the information and data in one place. So, instead of wasting time with difficult calculations or filling in documents with a pen, your team members can automatically generate reports and statistics with just one click. Centralizing data through dedicated software reduces the chances of making calculation mistakes or omitting important information. Thus, the mistakes that people can make will become a thing of the past when you leave these things to smart software.
Facilitates communication between team members - setting goals and keeping them up to date will also improve the internal communication in your company, especially if most of your colleagues work from home.
It's sustainable - opting for smart platforms allows you to control consumption and set sustainability targets. According to research, adopting a digital strategy can help companies reduce their carbon footprint by up to 50%.
2. Digitalization in business: 3 strategies to start your company's digital journey
The current global context has caused companies to reorganize their way of working.
Remote work has gained more and more ground, and if before it was only an occasional option or a freelancing activity, it has now become the main form of work for most companies. So, the adoption of this measure also meant the purchase of appropriate technological equipment. Here are a few strategies to help you digitize your company:
The HR department has many administrative tasks to perform: salaries, management of leave requests, the recruitment process and many other documents and calculations to take care of. Managed manually, these activities consume considerable time and energy. Luckily, it is now possible to digitize much of the recurring tasks using automated HR tools.
With our Core HR, your colleagues can easily post their work status, organize their schedule, manage documents and leave requests for the management department.
The software can also help colleagues who work from home to communicate with each other. An employee profile is like a social platform where they can chat, post about their work activity, celebrate birthdays, take days off and so much more.
Our Employee Experience software encourages interaction and helps build effective teams that are in alignment with the company's objectives and results.
An organization that supports growth and aligns its goals with team members has a higher potential to ensure its success in the future. Having a shared purpose helps everyone to understand what their tasks and roles are, what are strategies with the best results and what aspects need to be improved in order to have the desired outcome.
Through OKRs you can ensure that everyone is up to date with the evolution of the project, that those involved post their activity in real-time and that the tasks have been divided efficiently. In short, OKR alignment is for big dreamers and those who work on constantly improving themselves.
So, the digitalization of a business can be made simpler than ever and involves several aspects that can be implemented in any company, big or small. Thus, employees will gain more time to involve in optimization strategies. With our solutions, working from home becomes easier. Our software can be adapted to the needs of any company.
Want to find the best ways to digitize your company?
Contact us now and let Mirro turn your world around!