What You Need to Know About Employee Engagement in the Modern Workplace

Published:
October 12, 2022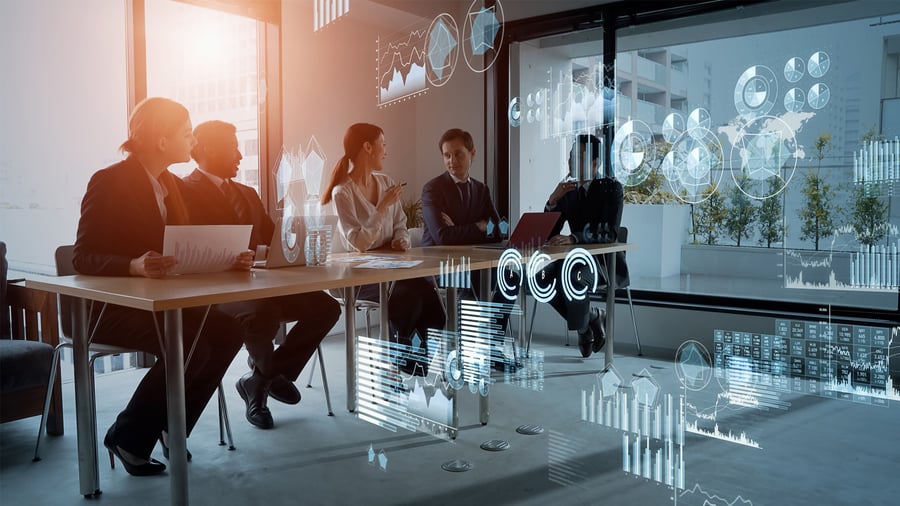 The modern workplace is changing faster than ever, reshaping how employees and employers see one another. The COVID-19 pandemic forced employers to introduce remote and flexible working models. It also encouraged people leaders to pay more attention to the pandemic's harmful effects on people's physical and mental health.
Critical factors like stress, burnout, and shifting priorities alter people's needs and expectations about their workplace. Consequently, most employees are no longer driven only by a decent wage.
They are looking for a purpose in their employment and want to be recognized for their qualities and achievements. They crave human connections, but most importantly, they prioritize their mental health and wellbeing.
Although the concept of employee engagement isn't new to organizations, studies have shown that many of them still struggle to offer their employees a positive work experience.
In this article, we'll go over the state of employee engagement in the modern workplace, backed with powerful statistics, and provide actionable advice for organizations that want to increase such metrics.
The state of employee engagement in 2022
The most productive environment for businesses and employees is one that manages to obtain high levels of engagement among its people.
Let's have a look at the most relevant statistics different studies have gathered about the state of employee engagement in the modern workplace.
A possible cause for high employee turnover
A higher employee disengagement rate increases the chances of a higher employee turnover rate. Conversely, when people feel engaged and content with their work, they are more likely to stay with their current employer.
At a global scale, only 21% of employees are engaged at work in 2022, according to Gallup data. This staggering number indicates that employers must look beyond point-in-time solutions that don't deliver actionable outcomes. Instead, they need to take the pulse on how their people feel if they want to incorporate engagement into the fabric of the employee experience.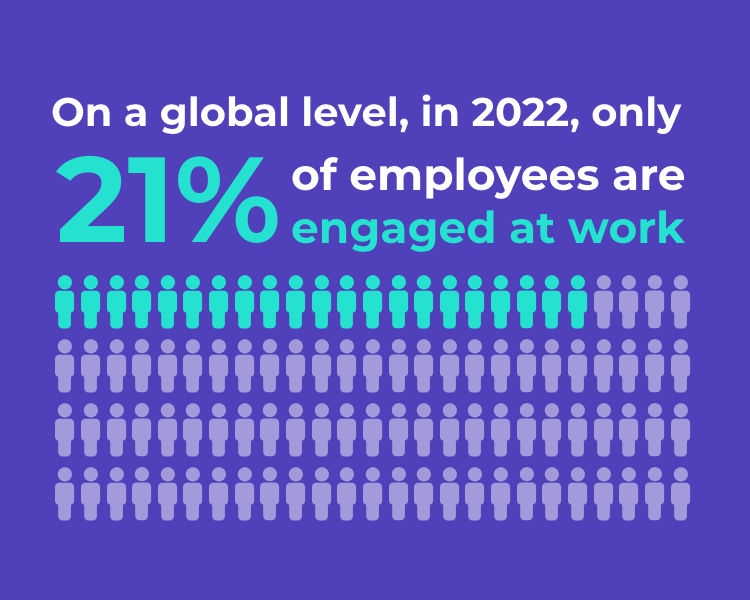 According to Gallup research, 37% of engaged employees are looking for a new job, compared with 73% of actively disengaged employees. This figure reveals that three in four disengaged employees are actively looking for a new job, which means companies with a disengaged workforce have higher turnover rates than companies with actively engaged people.
As per another Gallup study, 60% of people are emotionally detached, while 19% feel miserable at work. The causes for emotional detachment from work can vary from not finding clarity and motivation to not being connected to the company's values or other team members. Therefore, employers should consider using strategies that foster long-term relationships, creativity, and motivation.
Employee wellbeing at work: why it's important
According to Gallup's State of the Global Workplace 2022 Report, there is a 61% higher likelihood of ongoing burnout for employees who are engaged but unsatisfied with their work. Toxic workplace practices are closely linked to burnout, which is correlated with leaving intent and eventually causes attrition.
On the brighter side, companies that engage their people effectively have seen an 18% increase in productivity, per Gallup research. In addition, when employees are engaged, and their wellbeing is taken care of, organizations benefit from positive outcomes, such as increased sales, customer loyalty, and organizational citizenship.

Plus, studies show that engaged employees are 23% more profitable than those with low engagement rates. Highly engaged employees are more productive and experience less absenteeism, resulting in increased organizational profitability.
How to increase employee engagement in 2022
Now that we've touched on employee engagement in the modern workplace, let's raise those numbers.
The following engagement tips will help organizations develop a better workplace with happier, more effective, and more productive employees.
The case for communicating honestly in the workplace
The first thing you should do to increase employee engagement is to establish a baseline and build on it. Start by assessing whether your company culture is strong, supportive, and positive.
If you determine there is still room for improvement, consider auditing your organization's vision, mission, and values. Review your internal code of conduct if you already have one, and consider creating one if you don't. This is a great starting point to showcase to your employees what you stand for and wish to see in your people.
After you've set your baseline, evaluate if your communication aligns with the core belief system and people's expectations. Then, improve your internal communication by asking questions, showing genuine interest in knowing and resolving the issues that keep people disengaged, and making a habit of having this conversation.
Communicate transparently about your expectations towards your people, clearly define their roles and objectives, and adopt an open-door policy, so everyone feels safe asking questions.
Honest communication also involves taking the pulse of your people and understanding their needs and desires. Emphasize the importance of giving and receiving constant feedback. This will help information flow naturally and increase collaboration in your team.
Inspire people managers to take action
After establishing a foundation for positive company culture, you must make sure your people live and work by those values.
This is the phase where you educate your people managers and inspire them to take action. Company leadership sets the tone for culture, so applying your core belief system to your day-to-day operations is critical.
You can't expect your people to live your core values if your managers don't do the same. So first, hire with culture in mind and attract the right people who align with your company values.
After retaining the top talent, encourage people leaders to be proactive. Ensure they set an example and inspire their co-workers. If you identify people following a particular team member, leverage their influence, and your teams will listen and act on it.
Additionally, people managers can identify and solve potential problems long before they are known to a broader audience. Encourage people leaders to have regular one-on-ones with their teams to strengthen their relationships.
Finally, an engaged workforce is a team effort, so involve everyone in the change. Ditch the corporate narrative, and don't show off your hierarchical organizational structure. Instead, give people autonomy and create a space where they feel safe to speak up. Encourage and build relationships between all people, not just mentors and mentees.
Measure, iterate, and understand employee engagement
You've put the basis of solid company culture and educated your people on them. Now it is time to take action.
Start by upgrading your employee benefits package. In such a competitive workspace, employees expect more than just fair compensation from their employers.
Analyzing salaries and ensuring fairness across the organization should be a top priority for people leaders. Mirro's compensation management software helps you plan for the future and increase employee satisfaction.
Private health insurance, meal tickets, flexible work schedule, and gym memberships are just some benefits you should consider for your people.
Support learning opportunities and continuous education. Most people feel valued and cared for when their employer supports career advancement and skills development. Consider offering education reimbursement for training and courses. This approach will inspire and engage your people and motivate them to work towards achieving their goals.
Foster a sense of community. Increase employee engagement in the workplace by incorporating different team-building activities. This will help boost morale and strengthen the relationships between co-workers.
Make employee wellbeing a priority. Recognizing the demand for a mental health program is essential for people leaders. If you already run such a program, you are moving closer to having an engaged workforce. Understand the underlying source of a problem, be sympathetic and kind to your people, encourage taking breaks, and instill a culture of unplugging after work hours.
Recognize your employees' achievements. Employee appreciation goes a long way in helping your team feel valued. Make a habit of celebrating your people's birthdays, work anniversaries, and successes. A sound employee recognition system gives individuals more self-assurance and motivates them to work harder.
Lastly, rely on a trusted partner to quickly implement all these strategies. A performance management platform like Mirro helps organizations build transparent and thriving workplace cultures that foster employee wellbeing and improve talent retention. Mirro will assist you in driving continuous feedback, setting clear OKRs, and promoting recognition with kudos.
Changing employee engagement in the modern workplace
It has never been clearer that employee engagement is the ally for every organization that wants to create a positive work experience for its people. The employee engagement statistics presented in this article indicate that companies still have a long way to go to foster a positive company culture.
While it can be challenging to implement a well-thought-out employee wellbeing strategy, many resources and tools can support you along. The most important thing in this situation is implementing the right plans and methods to benefit you and your team in the long run.
With data-driven insights from our all-in-one performance management tool, you can increase employee wellbeing and foster a more contented, healthy, and effective workforce. Contact us to learn more about how Mirro can help you improve employee wellbeing and boost engagement.