How to Get Started With Performance Management at Your Company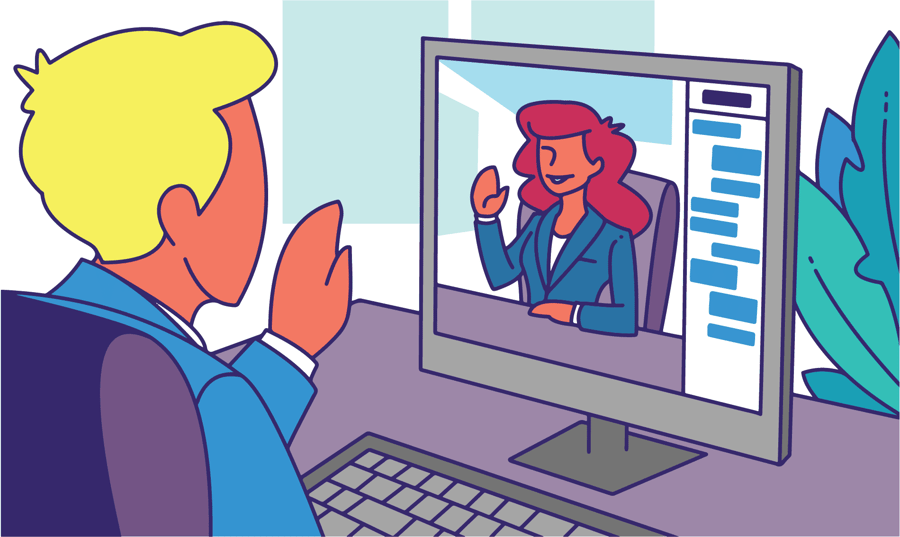 If you're reading this, congratulations! It means you're probably part of a growing business that's looking into getting started with performance management.
And while managing performance might sound intuitive, it's an area where even the best companies need guidance to make sure they don't end up stuck in rigid and bureaucratic procedures.
Luckily, you're in the right place to learn how to implement an efficient system at your company. ;)
Let's dive right in.
What is performance management
There are many fancy and over-complicated definitions of this term out there. But what you need to know is that performance management is a framework. It's used to translate a company's mission into goals and objectives and help individuals reach their potential, creating an environment where they can thrive. It's often said that assessing performance revolves around two activities:
Evaluating people's performance.
Helping them develop action plans to improve.
In reality, it's much more complex. Think of performance management as an ongoing process, where both parties have responsibilities: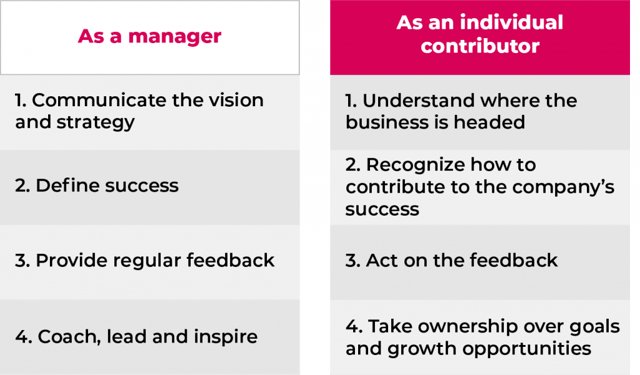 But performance management doesn't have to be complicated, bureaucratic, and life-draining. And we have just the recipe for you right here.
Debunking the myths of performance management
In some circles, performance evaluations get a bad rep. And even you've probably heard some horror stories of people suddenly placed on performance improvement plans without so much as an explanation.
But that's not a proper system; it's just a badly-implemented review process.
Successful performance management is a vital part of any company, not just another HR-mandated process. And it's surely not a once or twice-a-year affair that'll bury you in papers and meetings.
Done right, it can:
Align behavior to the company's mission
Clarify job responsibilities and expectations
Develop capabilities and skills
Highlight training needs
Encourage accountability
Boost morale and engagement
Improve manager-contributor relationships
Keep communication channels open
Increase retention, productivity, and profits
Provide a basis for making HR decisions
If all these sound right and you want them for your business, you're ready to get started. So rally up your troops, get commitment and buy-in, not just from HR, but from managers and teams as well.
How to integrate performance management into your workflows
Just like organizational cultures, every performance management system is unique and adapts to specific goals. However, they can all be broken down into the same four stages:
Planning
Developing
Monitoring
Rating & rewarding
Let's take a closer look at them.
1. Planning
The theory of goal-setting, developed by Dr. Edwin Locke and Dr. Gary Latham, says that setting specific, challenging goals motivates performance more than having no plans or do-your-best goals.
So, start by translating your company's mission into relevant and meaningful goals, key results, and metrics for measuring success.
2. Developing
After the foundation of the goals has been laid, it's time for the actual work. In the words of Britney Spears and Rihanna, you can now:
Work, work, work, work
Work, work, work, work
Work, work, work, work.
3. Monitoring
Monitoring involves regular performance discussions, so this is where the process usually breaks for many companies.
For effective performance management, you need coaching and feedback to happen throughout the year.
That's because regular check-ins:
- Help people know where they stand
- Provide clarity
- Help course-correct
- Adjust behaviors in the moment
To learn how to incorporate regular get-togethers into your schedule, check out the ultimate guide on 1:1s meetings.
4. Rating & rewarding
After a year of planning, developing, getting feedback, and adjusting course, the results of performance reviews no longer come as a surprise. They just turn into a summary of everything that's been discussed throughout the months.
Start by taking a look at all the tools available to see what works for you!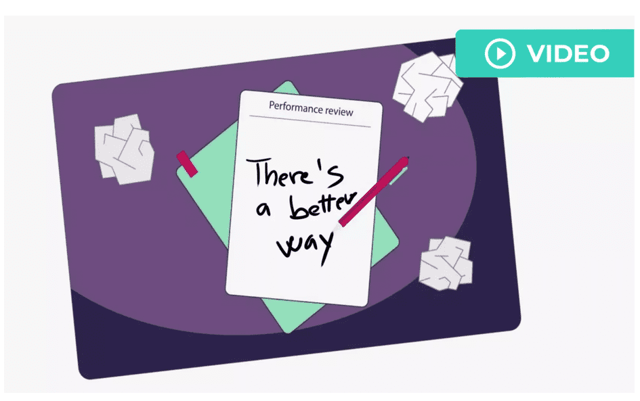 Take your performance management to the next level with Mirro
If you've ever struggled with helping people reach their potential and wondered if there's a better way to do it, the answer is yes. And it's Mirro.
Mirro is the all-in-one performance management software. It's designed to get everyone in sync and fuel a culture of growth and visibility.
To give you a taste, with Mirro, you can create timelines, mark your progress, establish check-in routines, and much more.
Thanks to an effective and simple-to-use platform, Mirro helps people communicate better, align individual work with broader objectives, and perform to their highest potential. That's less stress and more clarity for everyone!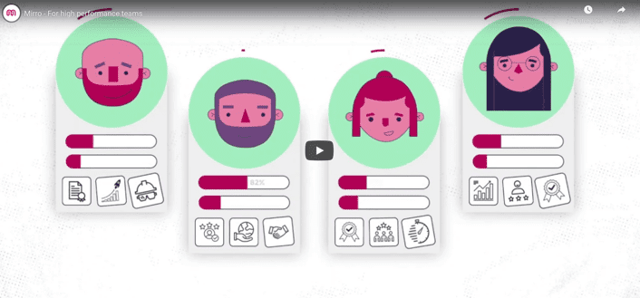 A world where performance conversations energize managers and teams is within your reach. So let Mirro light your path forward as your performance review software!