OKR Scoring: How to Get It Right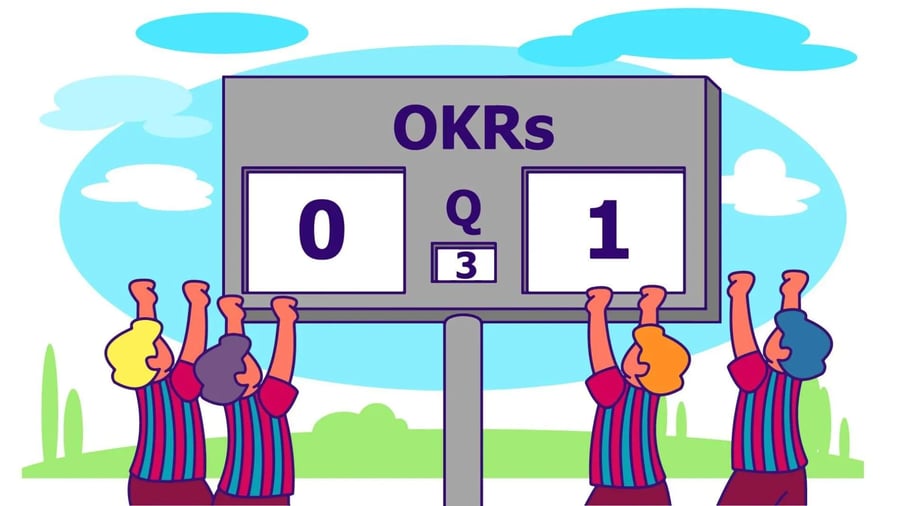 For many teams, switching to the OKRs framework means ushering in scoring questions and endless headaches.
However, it doesn't have to be this way.
Let's jump right into the nitty-gritty and take a look at the best practices for OKR grading and set you up for success.
How to score OKRs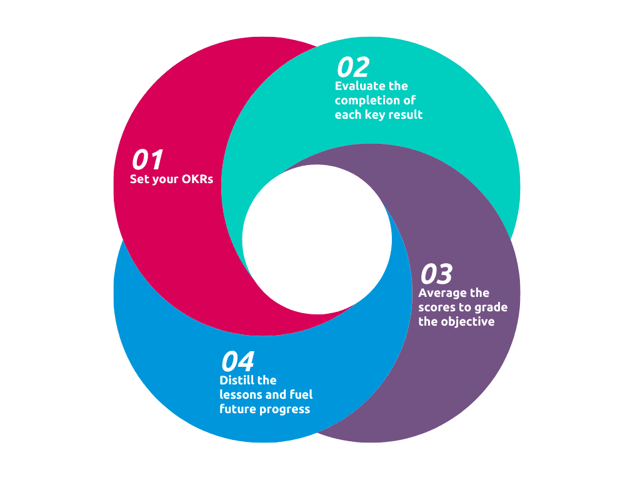 By definition, scoring OKRs is the process of setting criteria for evaluating success and grading the level of completion for each key result to determine if the objective has been achieved.
Many teams now use the Google OKR scoring system to figure out their tallies. According to its ReWork OKR guide, OKRs are graded on a scale from 0.0 to 1.0, with 1.0 signaling achievement. As you're about to see, the increments on the scale show the levels of completion.
To score OKRs, you first have to grade each key result, then average the scores, assess the objective itself, and see how much impact it had.
There used to be a time when you could show up for your first day of work, have your boss show you around for 10 minutes, and then you were ready to get started and be productive. But nowadays, most jobs involve way more complexity, so learning the ins and outs of a job can be quite a lengthy affair.
That's why an onboarding project plan can be so important.
Here's your easy-to-use OKR scoring template
To understand the intricacies of grading, let's take a look at a handy OKR scoring system you could implement on your team.

Purists who do it the Google way will tell you an objective can be marked as complete when you reach 0.7 to 0.75 for each key result. That figure changes to 0.6 or 0.7 when dealing with a moonshot type of initiative.
However, not all companies need this granularity level to score their OKRs. In such cases, they mostly stick to labeling scores as:
On-target
Off-target
At-risk
This shows that personalization plays an integral part in scoring OKRs. Of course, you can always tweak the process to reflect the progress you're making, but one thing's for sure: you don't have to do it alone. So keep reading if you want to learn how to take all the guesswork out of OKR scoring and implement a framework that genuinely works.
Switch to a performant OKR scoring system
Mirro is the performance management tool that helps companies foster a feedback culture and increase alignment with clear OKRs. This powerful piece of software can help you solve OKR scoring issues across the board and get a clear picture of all the progress that's been made.
No more guesswork, no more discrepancies and inconsistencies across departments, and no more headaches. That's the beauty of scoring OKRs with Mirro software.
Once you set an objective and the key results within Mirro, you can update them whenever necessary. The app keeps them front and central for you, helping you better organize your to-do lists and ensuring you don't lose track of what truly matters.
Mirro OKR framework automatically calculates progress percentages, giving you a comprehensive view of where you are on your journey. Plus, you get to see all the OKRs in the company and understand how everything fits together and why your efforts matter.
Here are also other areas that Mirro software can help you master:
Align company efforts and improve clarity and focus
Understand how much time, resources, and dedication OKRs need for completion
Encourage honest conversations about OKRs
Improve overall OKR-setting skills
Learn valuable lessons from low-scoring OKRs
Adjust trajectories and business projections as the quarter goes
So, make OKR scoring easy and consistent for your team, and switch to Mirro today! It'll be right on target for you.