Mirro.io Recognized as a Leading Performance Management Solution in Europe by G2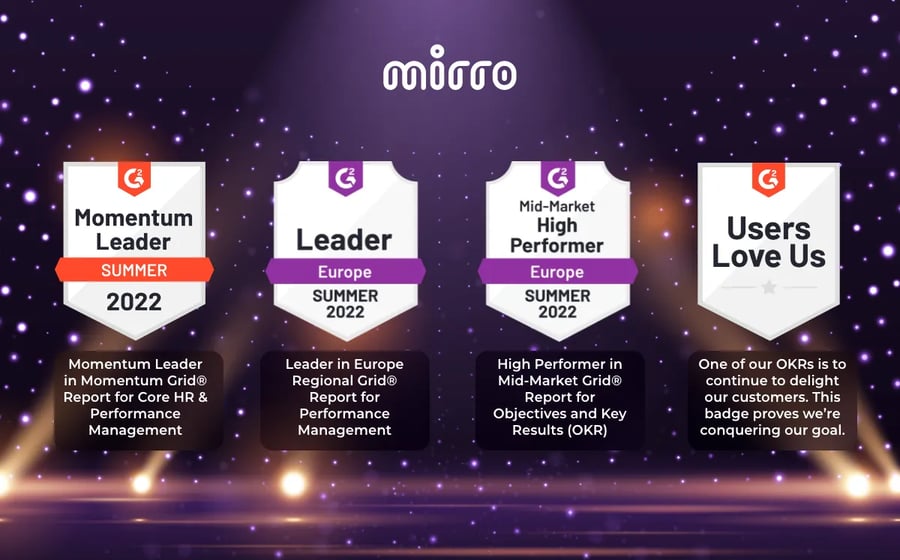 BUCHAREST, JUNE 29, 2022 — Mirro.io, the user-friendly and highly social performance management SaaS solution, is named a Momentum Leader in Momentum Grid® Reports for Core HR & Performance Management and a Leader in Europe Regional Grid® Report for Performance Management. The performance management platform is featured in a total of six G2 Summer 2022 Grid® Reports. G2 is one of the most relevant platforms worldwide that showcases the best products and services in the industry, as chosen by the customers.
Mirro.io is also ranked a High Performer in Mid-Market Grid® Report for Objectives and Key Results (OKR), in Mid-Market Europe Regional Grid® Report for Core HR and Performance Management, and in Small-Business Europe Regional Grid® Report for Core HR.
Every quarter, G2 showcases the best products and services in the industry, as chosen by the source that matters most: customers. Therefore, the G2 Grid® Reports for Core HR and Performance Management represent the voices of real Mirro.io users. G2 rates companies featured in the Grid® based on reviews from verified software users and data collected through online sources and social networks. Companies featured in each G2 Grid® report are ranked in four quadrants as follows: Leader, High Performer, Contender, and Niche.
Mirro.io's recognition in G2 Grid® Reports highlights our commitment to delighting our customers with outstanding features that shine a light on hybrid workplaces, deepen connections and engagement, and supercharge team performance.
"Being recognized as leaders in Performance Management and Core HR by G2 is an incredible acknowledgment of our efforts to help our customers build relationships, purpose, and performance for individual and team growth. We are thankful to every single one of our customers, partners, and employees, as they are the lever to our growth. We are proud of this achievement and eager to support more teams in their journeys", says Simona Lapusan, Mirro.io's Founder and CEO.
Mirro's top-of-the-line platform and capabilities earned recognition in past G2 Grid® reports for OKRs, Performance Management, and Core HR in Summer & Fall 2021 and Winter & Spring 2022.
About Mirro.io
Mirro.io enables high-growth SMEs to build transparent and thriving workplace cultures that foster employee wellbeing and improve talent retention. Our performance management platform helps organizations overcome hybrid workplace disengagement by encouraging a sense of purpose and stimulating social sharing and community belonging around the globe. Teams and individuals that use Mirro are happier, highly engaged, and more productive.
As a user-friendly and highly social platform, Mirro drives more than 5k monthly interactions between team members through recognition, OKRs, continuous feedback, and meaningful performance conversations.
Innovative companies like Tazz, Hochland, Free Now, E Co., and noissue. use Mirro to empower their teams and nurture healthy, solid work relationships.
You can learn more about how Mirro gets your teams thriving on www.mirro.io.