Top 50 HR Influencers to Follow in 2023

Published:
December 28, 2022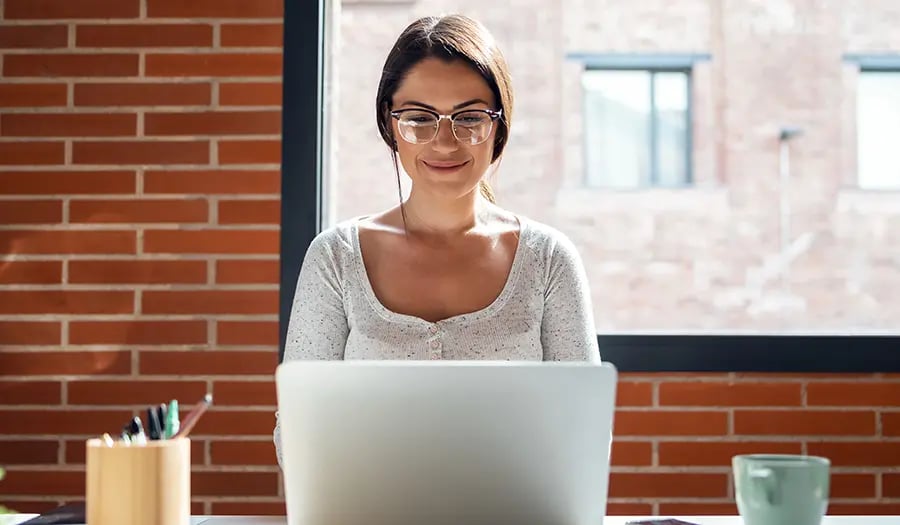 At the end of the year, every HR manager reviews the past months' performance, makes forecasts, and develops a strategy for the coming year.
Additionally, HR professionals must remain informed about the latest industry news and trends to keep up with recent significant workplace changes.
In a field as vast and dynamic as HR, dealing with the latest news can sometimes seem like a full-time job. Fortunately, there are many helpful resources to assist you as an HR manager in the process.
Besides HR podcasts, workplace influencers are invaluable resources that can teach, inspire, and provide insights. These HR thought leaders have extensive know-how and bring innovative ideas to the table. They are setting new standards for the industry and offering best practices for overcoming difficulties.
In this article, we've put together a comprehensive list of the most prominent HR and People Ops influencers to follow in 2023 to up your game. We divided them into five HR categories to help you quickly spot the ones that answer your needs.
HR tech influencers
Trish McFarlane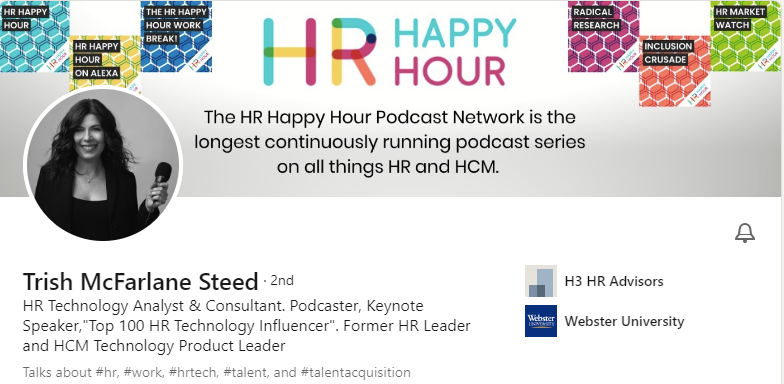 With over 20 years of experience in the HR industry, Trish is an HR technology analyst, consultant, and CEO of H3 HR Advisors. She is also a co-host of the HR Happy Hour, one of the longest-running HR podcasts, and co-founded the HRevolution Conference to talk about emerging trends and the future of HR.
The HR influencer strongly advocates for women's rights in the workplace, which is one of the main reasons for starting the Women of HR blog.
She uses social media to inform people about the latest industry advancements while offering her expertise and advice in talent acquisition, leadership development, change management, and current technologies.
Find her on 👉 LinkedIn & Twitter
Meghan M. Biro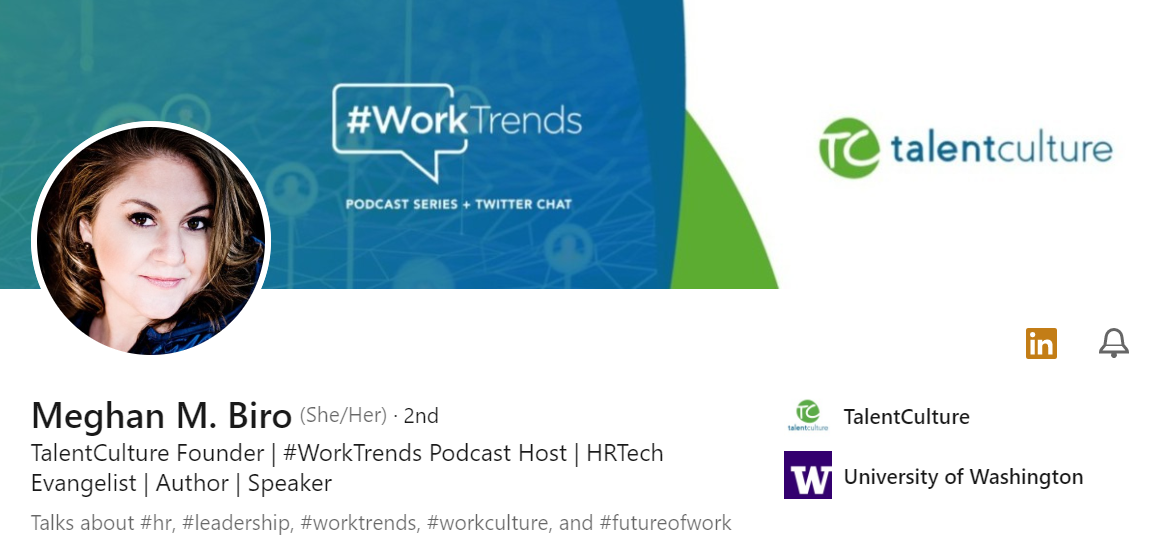 Meghan is the founder and CEO of TalentCulture, author, speaker, HR tech analyst, and host of the #WorkTrends podcast.
She has extensive experience as a high-tech recruiter, having worked with hundreds of businesses to empower and recruit top personnel, from early start-ups to big names like Microsoft, IBM, and Google.
As an HR tech influencer, she is a frequent speaker at international HR conferences, a guest on various shows, and a contributing writer for Forbes, Huffington Post, and other influential publications. Meghan is an avid fan of HR technology and advises recruiters to use the most up-to-date software to streamline HR operations.
Find her on 👉 LinkedIn & Twitter
Steve Boese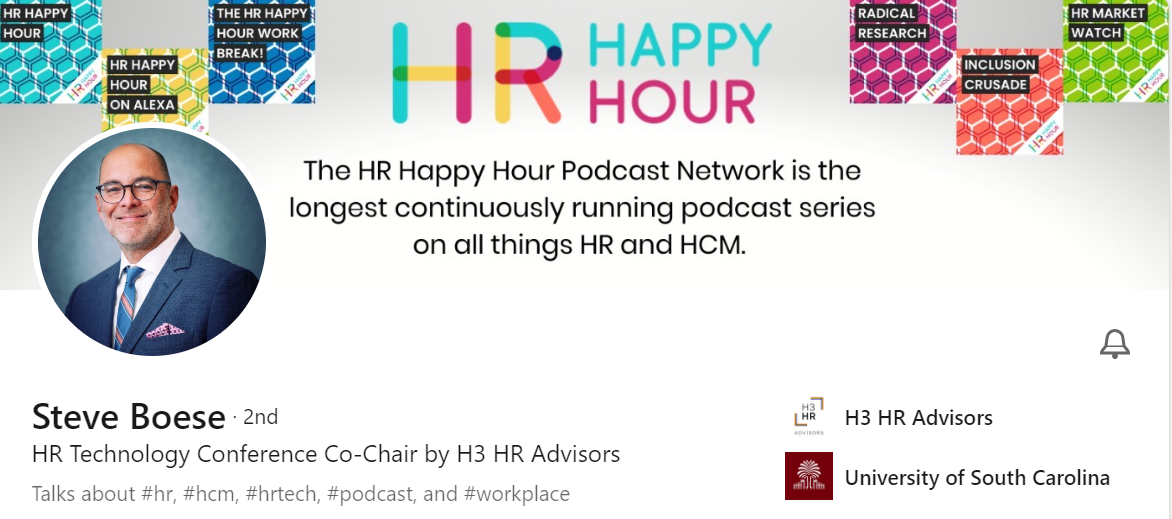 Steve is a Co-Chair of the HR Technology conference with H3 HR Advisors and a technology editor and writer for Human Resource Executive Magazine. He is also a co-host of the HR Happy Hour podcast alongside Trish.
He has a wealth of knowledge about Human Capital Management technologies from his work in product development and corporate HR leadership roles managing internal HR technology platforms.
Steve is an award-winning HR blogger, author, speaker, and moderator, with 20+ years of experience in the HR industry. On his social media channels, he explores the newest trends and innovations in HR and advises people on leveraging technology to advance their company.
Find him on 👉 LinkedIn & Twitter
William Tincup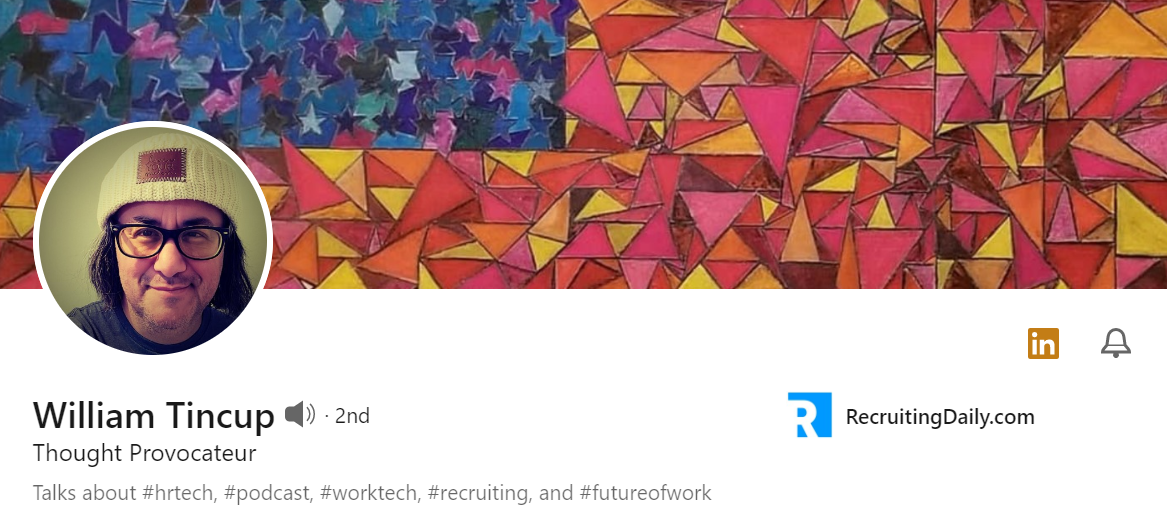 William Tincup, the president of RecruitingDaily, is a well-known name in the HR industry who has assisted numerous recruiters in finding exceptional talent.
He is a storyteller, teacher, advisor, consultant, and speaker who has published over 200 HR articles. He is also the host of The Recruiting Daily podcast, where he digs into the most critical HR topics with thought leaders and practitioners.
Find him on 👉 LinkedIn & Twitter
Josh Bersin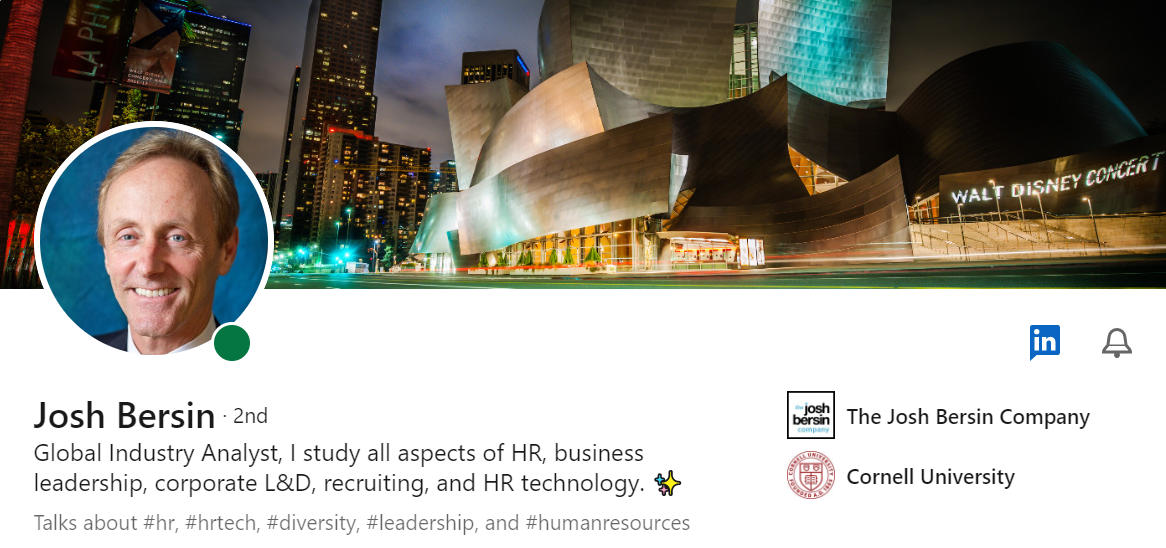 Josh is a global industry analyst, passionate about all aspects of HR, business leadership, corporate learning and development, recruiting, and HR technology. He is the founder and CEO of The Josh Bersin Company, a global leader in research, advisory services, and professional development for HR teams.
He assists HR professionals and businesses by guiding and educating them in corporate HR, talent management, recruiting, training & development, and HR technology as part of his mission to improve work-life balance.
Find him on 👉 LinkedIn & Twitter
Joey Price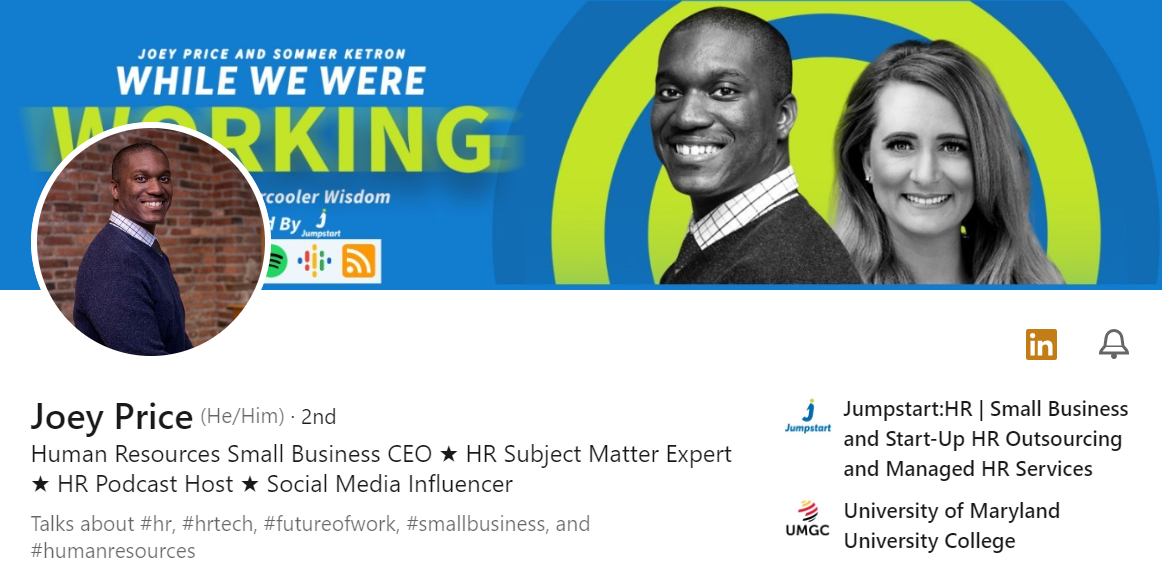 With over 15 years of experience in HR, Joey is a seasoned HR tech influencer, speaker, and HR subject matter expert. He is the CEO of Jumpstart:HR, helping his clients find innovative HR solutions.
He is also the host of Business, Life, and Coffee. This weekly personal and professional development podcast touches on personal finance, psychology, and improving the quality of life. Joey is a multi-award winner, interested in helping people and businesses grow.
Find him on 👉 LinkedIn & Twitter
Marc Coleman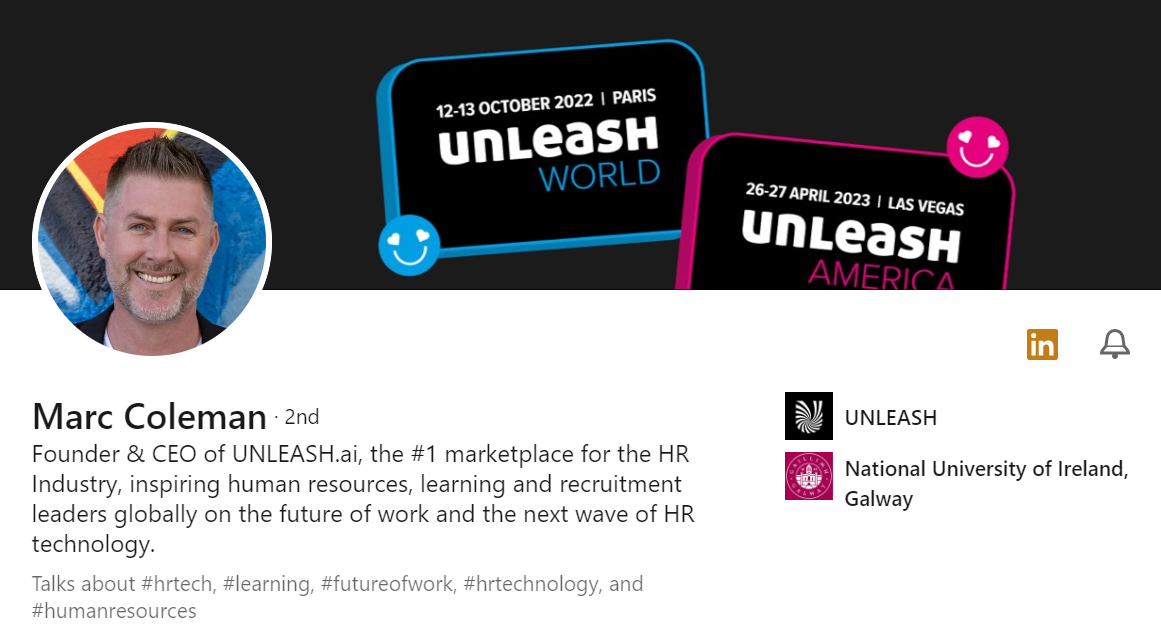 Marc is the founder and CEO of UNLEASH.ai, a marketplace for the HR industry. His mission is to inspire global human resources, learning, and recruitment leaders on the future of work and the next wave of HR technology.
He is passionate about creating global communities that envision, design, and drive the future of work. He has developed several influential HR brands and assisted in establishing and forming reputable HR communities across the globe for the past years.
Find him on 👉 LinkedIn & Twitter
Mark Stelzner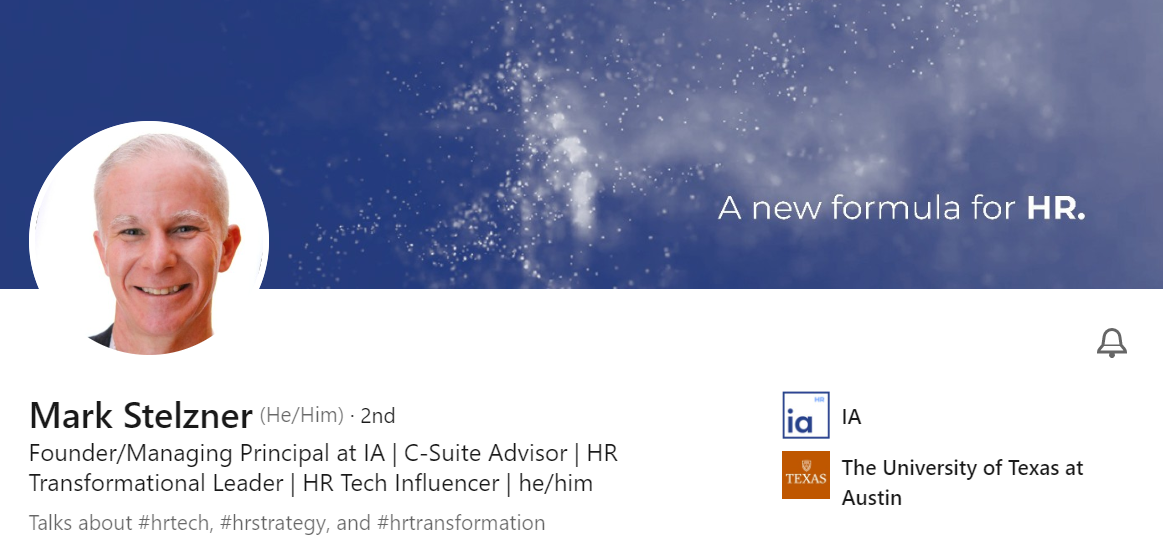 Mark is a well-known figure in the HR field, with more than 25 years of expertise in HR change. He describes himself as someone who has "spent his career fostering relationships through attention to detail, natural curiosity, and a self-deprecating sense of humor."
Over the past 17 years, Mark has been the managing principal of IA, a senior executive-focused HR management consulting firm. He has shared his ideas on CNN, Forbes, NPB, The New York Times, and The Wall Street Journal, among other media outlets.
Mark gives executives and business professionals advice on HR transformation, HR tech, employee wellbeing, benefits, best practices, and other HR-related topics on his social media channels.
Find him on 👉 LinkedIn & Twitter
Cynthia Trivella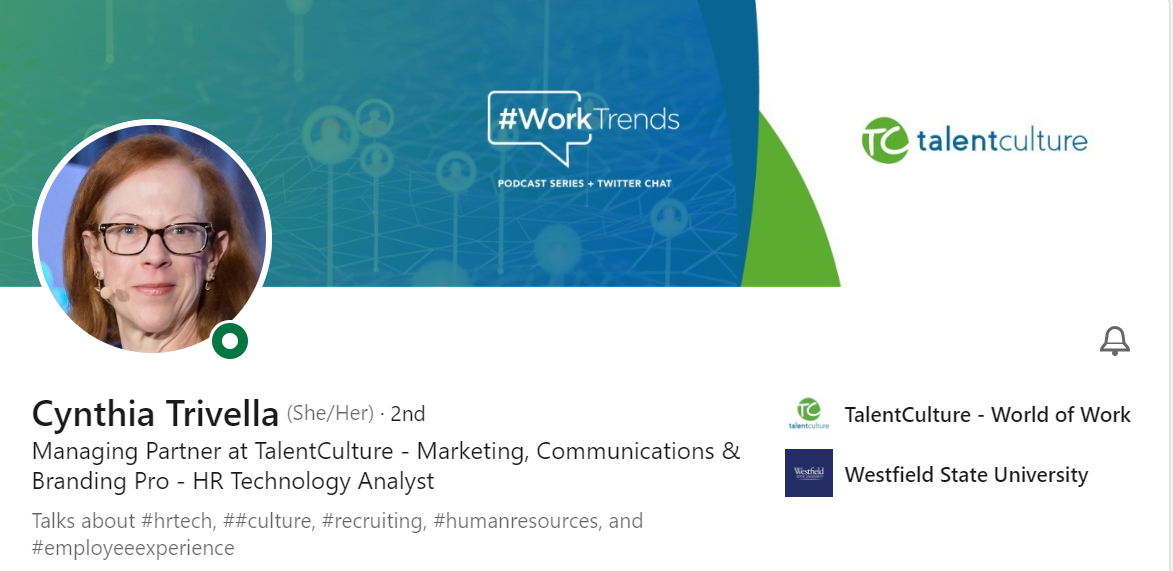 Cynthia is the managing partner at TalentCulture, a thriving community of professionals interested in all facets of the world of work, where technology plays a huge role.
With more than 20 years of experience in the field, Cynthia is among the most popular HR tech analysts and influencers. She has expertise in marketing communications, talent sourcing, and recruitment and is passionate about sourcing and retention strategies, employer branding, and employee experience.
Cynthia's immense influence in the HR field has been acknowledged by HRMarketer (Advos), the Huffington Post, and HRExaminer.
Find her on 👉 LinkedIn & Twitter
Craig Fisher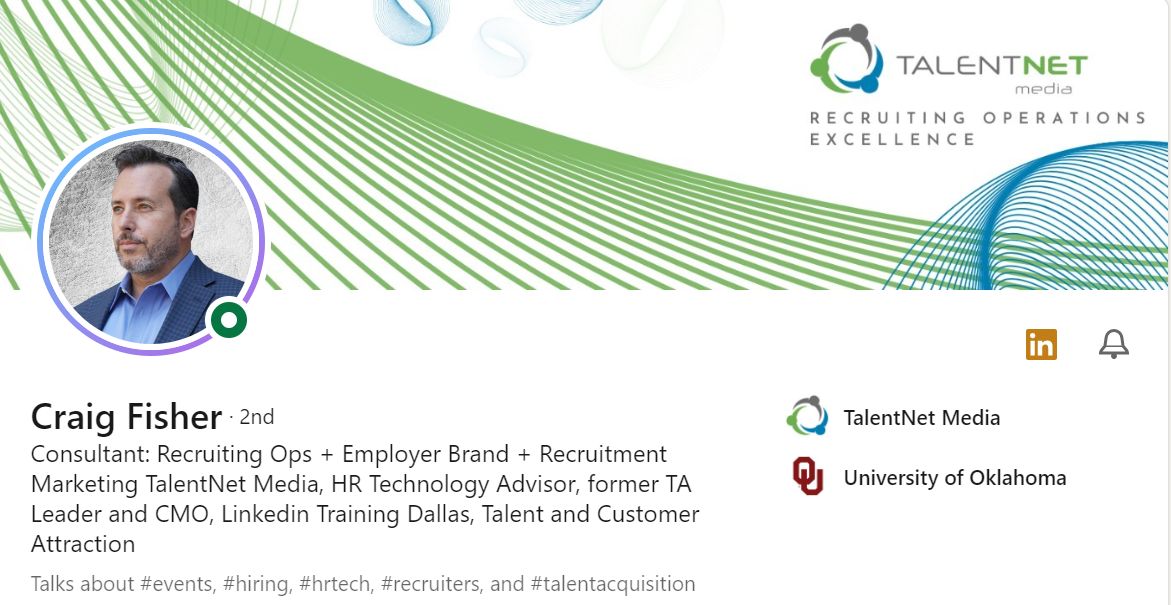 Craig is the founder, employer brand, and marketing strategist at TalentNet Media, which develops employer brands and recruitment strategies.
He is an advisor to numerous HR technology and digital strategy enterprises and has worked with big companies, such as LinkedIn, Toyota, YUM! Brands, HootSuite, and many others. He is a well-known keynote speaker at tech, social media, HR/recruiting, and sales conferences worldwide.
In addition to founding the first LinkedIn-accredited training company in North America, Craig also started the first Twitter chat for recruiters. He was featured in The Wall Street Journal, NPR, Forbes, Entrepreneur, and The Economist as a subject matter expert in several areas of talent acquisition.
Find him on 👉 LinkedIn & Twitter
Diversity, Equity, and Inclusion (DEI) influencers
Vernā Myers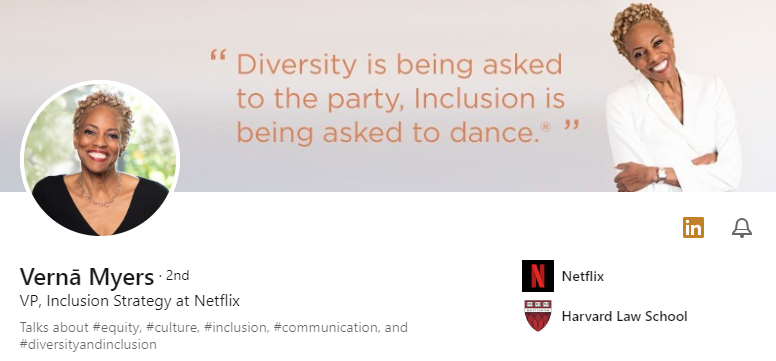 Vernā is the VP of Inclusion Strategy at Netflix, a cultural innovator, social commentator, and diversity expert. She develops and implements strategies incorporating cultural diversity, inclusion, and equity into every facet of Netflix's global operations.
She is the author of Moving Diversity Forward: How to Go From Well-Meaning to Well-Doing and What If I Say the Wrong Thing? 25 Habits for Culturally Effective People.
Her motivational TED Talk — How to Overcome Our Biases? — gained over 4 million views and has been translated into 27 languages. In addition, she has been featured in The Atlantic, Bloomberg BNA, Business Insider, Diversity Women's Media Inclusion Magazine, Forbes, Fortune, Harvard Business Review, Soul Vision, and TED NPR Radio, among others.
Find her on 👉 LinkedIn & Twitter
Amy C. Waninger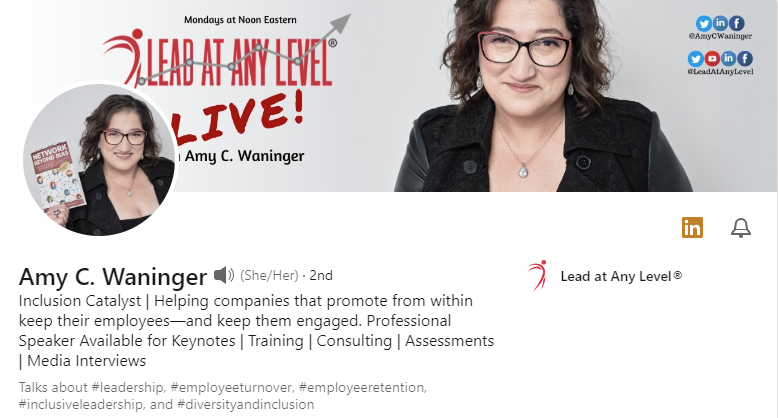 Amy is the CEO of Lead at Any Level, a company that works with organizations to build diverse leadership bench strength for a sustainable competitive advantage.
The DEI influencer is an inclusion catalyst, speaker, trainer, and consultant, helping companies retain their best employee over time and build inclusive cultures.
An expert on leadership, diversity, inclusion, networking, and unconscious bias, Amy often discusses employee turnover, retention, and engagement on her social media channels.
Find her on 👉 LinkedIn & Twitter
Jackye Clayton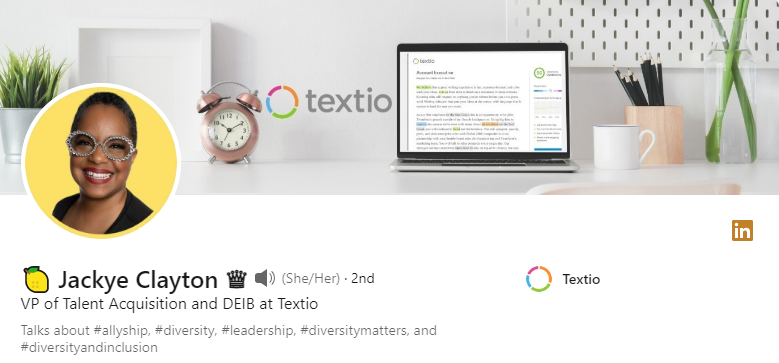 Jackye is the VP of Talent Acquisition and DEI at Textio, where she is committed to helping organizations create a diverse and inclusive workspace. She is a well-known HR thought leader in recruiting and DEI and gave the keynote at HR Executive's Spring HR Tech conference.
Jackye has received numerous awards from publications such as SDHR Consulting, VidCruiter, Mocha Magazine, and Human Resource Executive Magazine.
Find her on 👉 LinkedIn & Twitter
Jodi-Ann Burey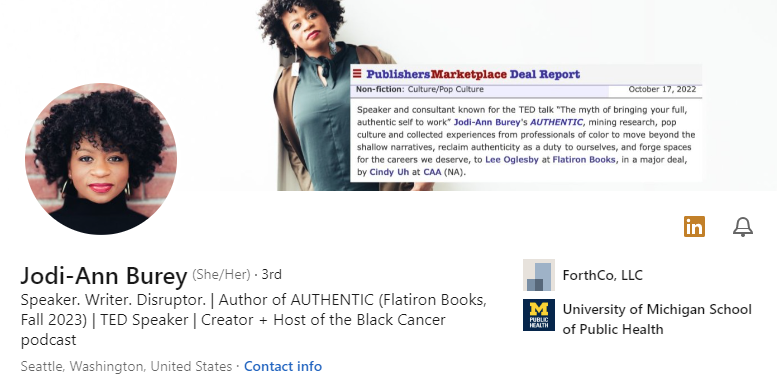 Jodi-Ann is a TED speaker, writer, content creator, author of Authentic book, and the host of the Black Cancer podcast. She focuses on racial, cultural, and health equity issues.
Her disruption of conventional narratives regarding racism at work is best exemplified in her TED lecture, "The Myth of Bringing Your Full Authentic Self to Work."
She highlights the stories of historically marginalized communities on her social media channels in her quest to "disrupt business as usual."
Find her on 👉 LinkedIn & Twitter
Jennifer Kim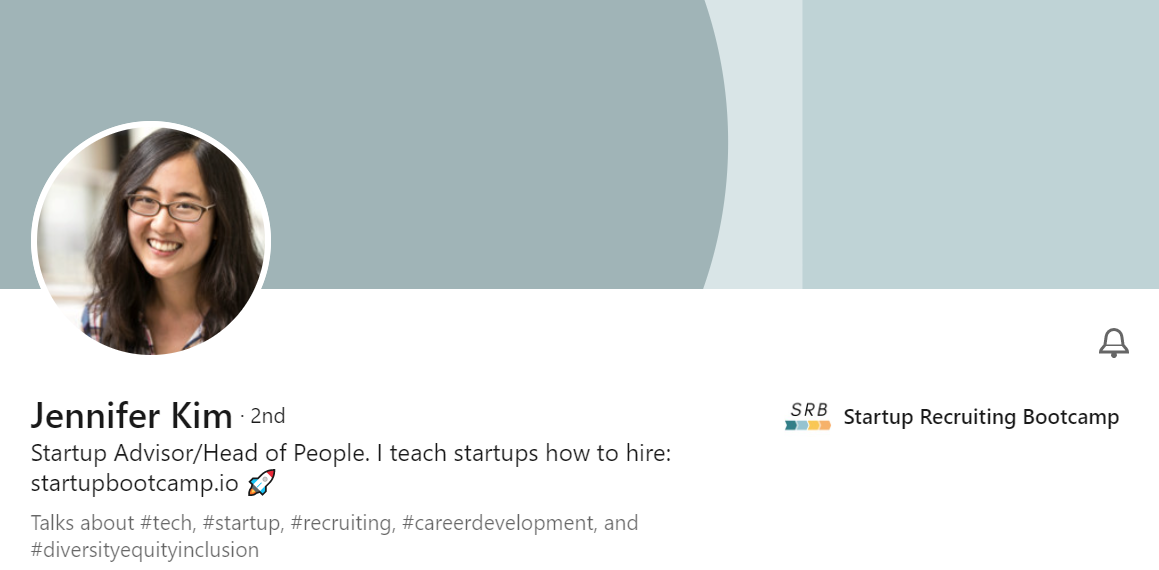 Jennifer is the founder of Startup Recruiting Bootcamp, a start-up advisor, leadership coach, and diversity and inclusion strategist. She also runs the Inclusion at Work Twitter chat, a valuable resource for diversity and inclusion.
She states on LinkedIn that her goal is to "make meaningful work possible for more people via education and entrepreneurship."
She helps start-ups easily integrate People & Ops functions into their business and often advises on recruiting and hiring, people ops, start-ups, career development, and inclusion at work on her social media channels.
Find her on 👉 LinkedIn & Twitter
Dalila Wilson-Scott
Dalila is the EVP and Chief Diversity Officer at Comcast Corporation and President of the Comcast NBCUniversal Foundation.
She frequently speaks on philanthropy and equity-related topics at prominent events like the Aspen Ideas Festival, Social Innovation Summit, MIT Solve, USC Center on Philanthropy and Public Policy, and the Women's Philanthropy Institute's Annual Symposium.
The DEI influencer is passionate about social impact, inclusion, and innovation, topics she frequently discusses on her social media profiles.
Find her on 👉 LinkedIn & Twitter
Katie Burke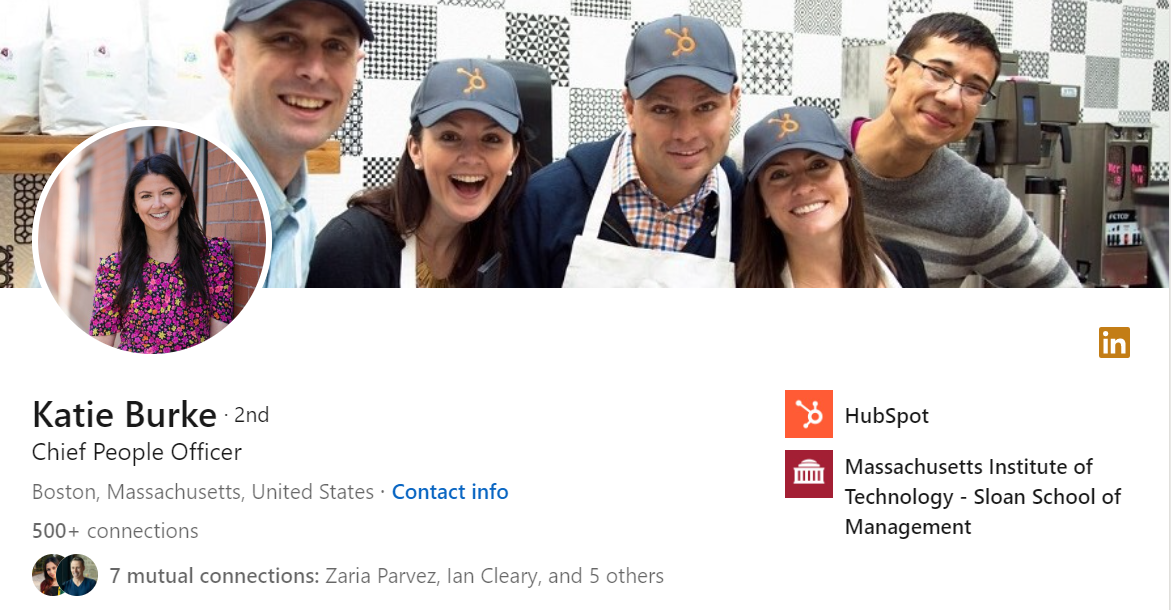 Katie is the Chief People Officer at HubSpot, overseeing the company's recruitment, people operations, learning and development, culture, and employee experience.
Under her supervision, HubSpot became well-known for its positive company culture. In addition, she started a diversity and inclusion program, which includes an annual release of diversity data.
She is passionate about company cultures, diversity, inclusivity, innovation, and leadership and believes in combining all these to make a great workplace. On her social media profiles, she provides leadership, diversity, equity, and inclusion advice to everyone who wants to explore the future of work.
Find her on 👉 LinkedIn & Twitter
Kathryn Minshew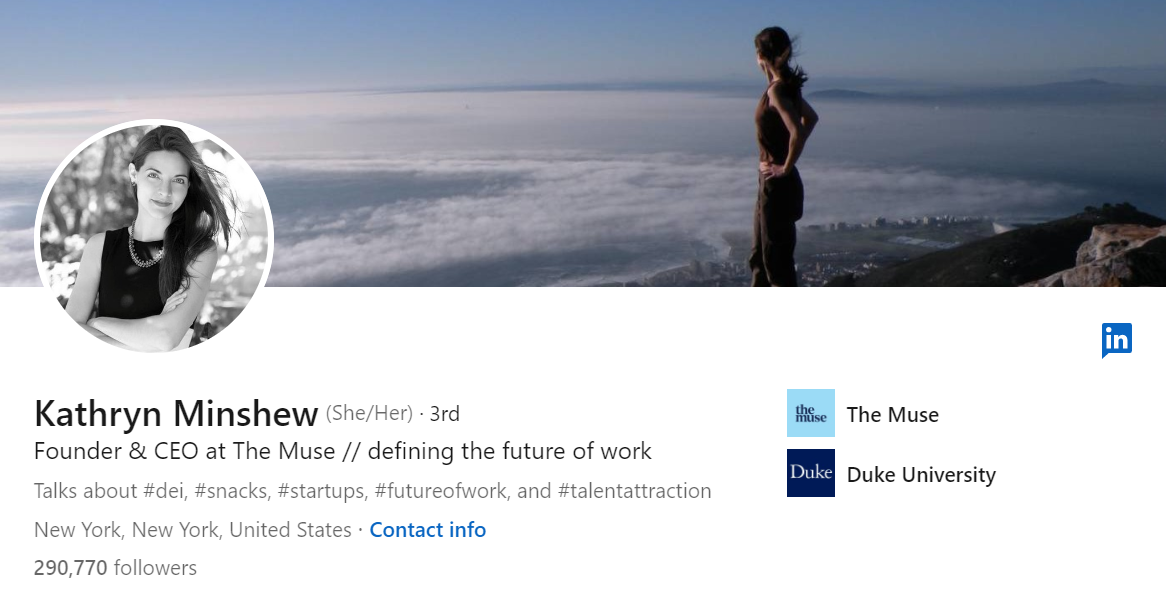 Kathryn is the founder and CEO of The Muse, an online career platform, spending most of her days helping create the future of work.
She is passionate about career development and the modern workplace, helping companies attract and retain the right talent. Additionally, she believes in investing in company cultures to build "an organization that lasts."
If you give her a follow on social media, you'll find her talking about various topics related to the workplace and organizational culture.
Find her on 👉 LinkedIn & Twitter
Risha Grant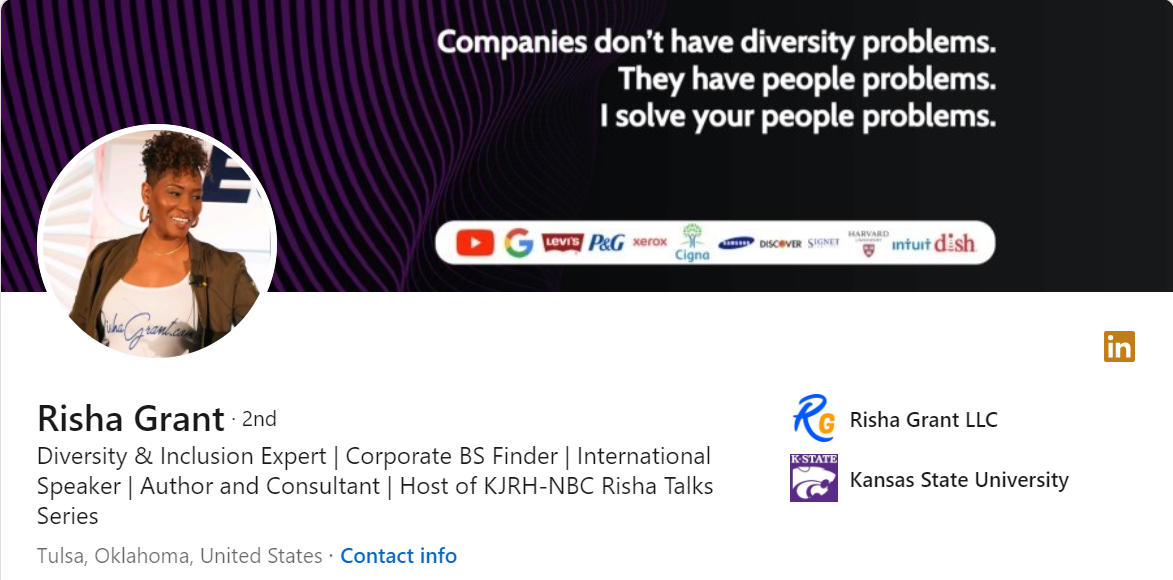 Risha is the CEO of Risha Grant LLC, a full-service diversity and inclusion communications and consulting firm. She is a diversity and inclusion expert, international speaker, author, consultant, and host of the KJRH-NBC Risha Talks series.
She works with global companies and leaders to help them eliminate their biases that disrupt inclusive cultures. As she describes, Risha's goal is to lead her audience to "a new place of respect, understanding, authenticity, and inclusion."
Find her on 👉 LinkedIn & Twitter
Lindsay-Rae McIntyre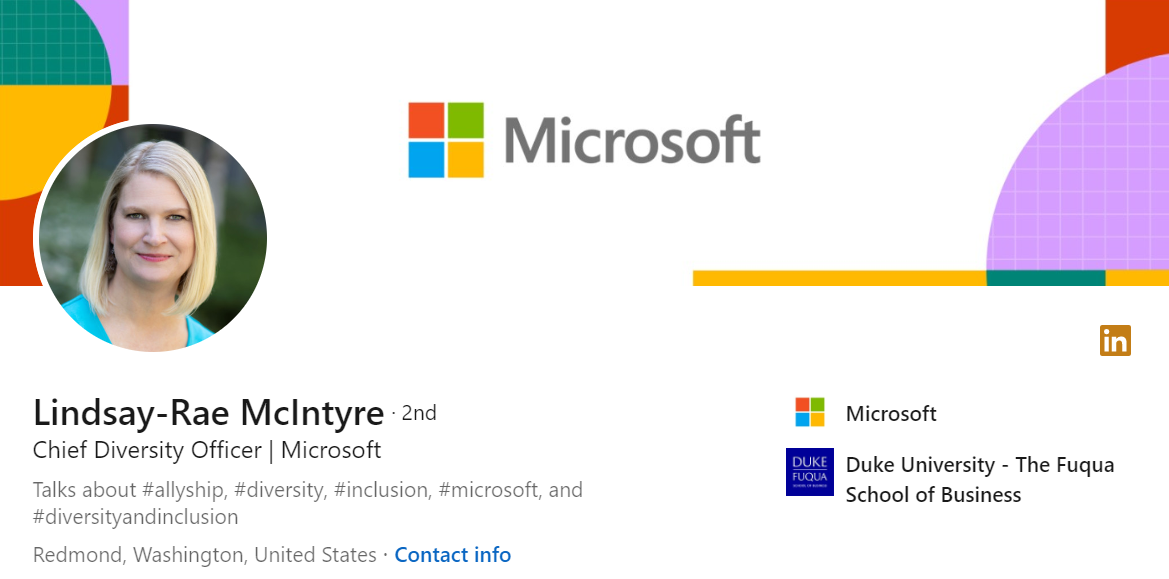 Lindsay-Rae is the Chief Diversity Officer at Microsoft, aiming to build a stronger future through inclusive culture and technology.
With more than 20 years of experience in HR for the technology industry, she is passionate about using cutting-edge, inclusive people methods to drive corporate growth.
With more than 18K followers on her LinkedIn profile, Lindsay shares her tips and knowledge on diversity, inclusion, and allyship matters.
Find her on 👉 LinkedIn & Twitter
Organizational and leadership development influencers
Jacob Morgan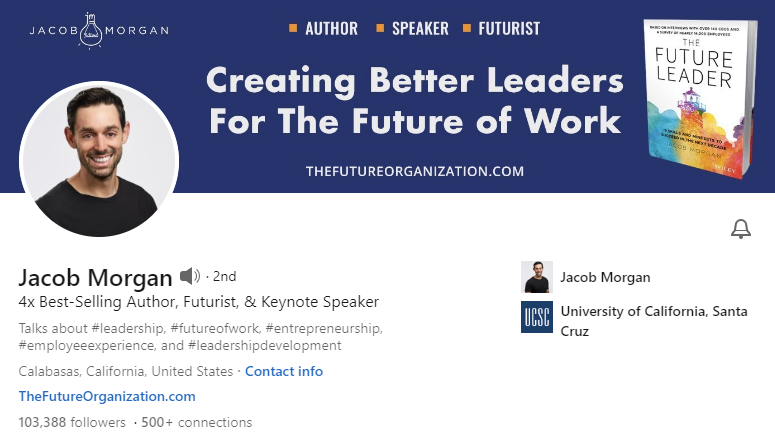 Jacob is a co-founder of The Future of Work Community and a self-described "futurist." Listen to his weekly podcast, Lead the Future of Work, if your company wants to drastically change employee experience.
Moreover, the HR thought leader is a best-selling author and keynote speaker, emphasizing the future of work, employee experience, and leadership.
In addition to serving as an author and advisor, Jacob participates in thought leadership initiatives. He shares ideas and carefully curates content on his social media accounts. Jacob has written for Forbes and The Harvard Business Review. He also published a newsletter called The Future of Work.
Find him on 👉 LinkedIn & Twitter
Whitney Johnson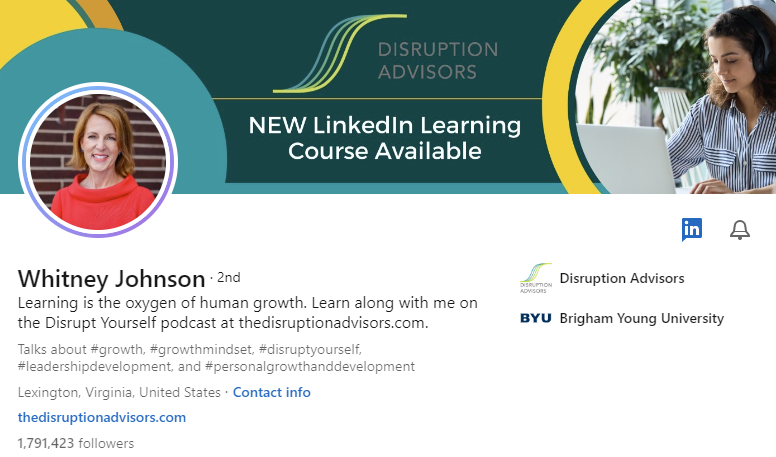 Whitney is the CEO of Disruption Advisors, a leadership development company that helps companies grow their employees to ensure business success. She is also the host of Disrupt Yourself podcast, a show with notable leaders who talk about their growth through disruption.
She is a Wall Street Journal, USA Today, and Amazon best-selling author and was named one of the top ten global business thinkers in 2021 by Thinkers50. In addition, she is a renowned keynote speaker and a well-known lecturer for the Corporate Learning division of Harvard Business Publishing.
With more than 1.7 million followers, Whitney was chosen as a Top Voice in 2020 on LinkedIn.
Find her on 👉 LinkedIn & Twitter
Jennifer McClure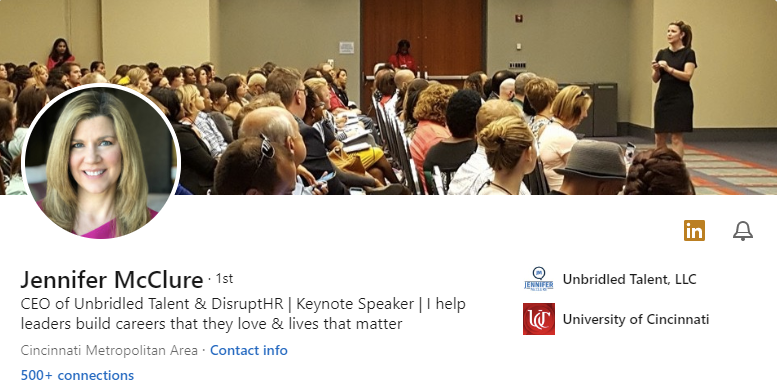 Jennifer is the CEO of Unbridled Talent and DisruptHR, helping leaders "build careers that they love and lives that matter." Every week, she a podcast – Impact Makers with Jennifer McClure – sharing conversations with practitioners, entrepreneurs, authors, and speakers who are changing the world while building careers.
She is a keynote speaker, trainer, coach, and facilitator specializing in HR, recruiting, talent acquisition, HR strategy, leadership development, and personal branding.
Jennifer has many years of hands-on leadership and executive experience working in and with start-ups, privately held companies, and Fortune 500 organizations in various industries. She is frequently recognized as a global influencer and expert on the future of work, strategic leadership, and innovative people strategies.
Find her on 👉 LinkedIn & Twitter
Lolly Daskal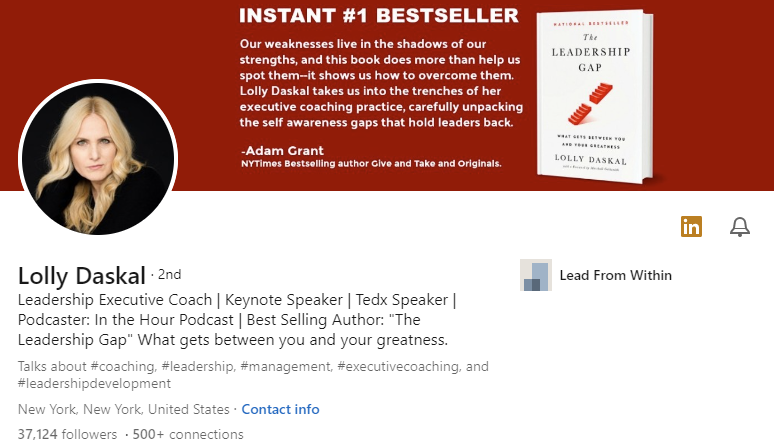 Lolly is the founder of Lead from Within, a successful leadership firm that offers custom-made leadership and organizational development programs. She is a well-known leadership coach, consultant, facilitator, speaker, and author on leadership and development.
With 30 years of experience, Lolly adds behavioral and psychological expertise to her work. She is an HR thought leader with experience working in various corporate, nonprofit, governmental, and business development organizations.
Find her on 👉 LinkedIn & Twitter
Brigette Hyacinth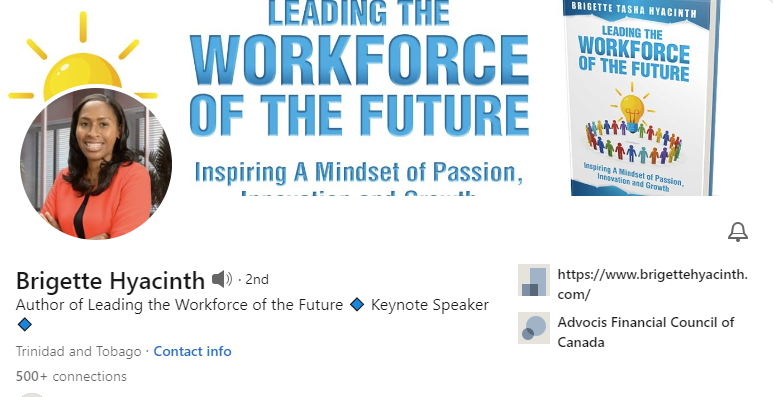 Brigette is a global keynote speaker on leadership, HR, Artificial Intelligence, and digital transformation.
She is also the author of Leading the Workforce of the Future: Inspiring a Mindset of Passion, Innovation and Growth, a book that provides concrete advice and best practices on engaging and retaining top talent.
She has more than 15 years of experience counseling CEOs, business owners, educators, government officials, and other leaders on creating innovative companies, unleashing creative potential, and boosting productivity.
Find her on 👉 LinkedIn & Twitter
JoAnn Corley-Schwarzkopf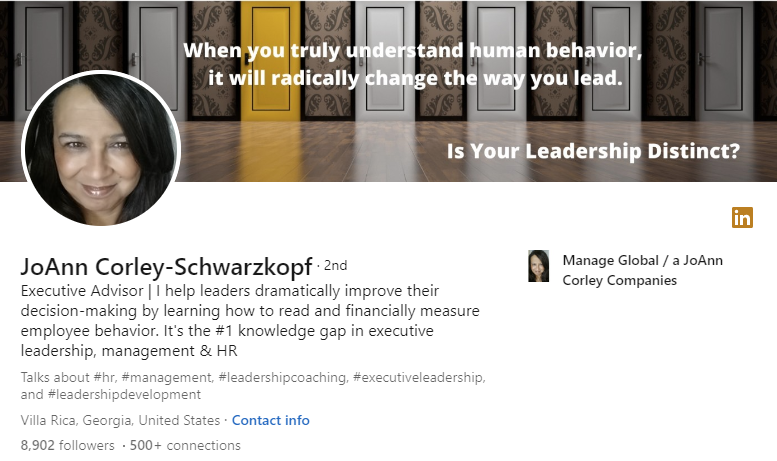 JoAnn is an executive advisor who helps leaders dramatically improve their decision-making by learning how to read and financially measure employee behavior.
She provides business advising, management consulting, and executive leadership development programs while integrating the human element into businesses.
JoAnn is a passionate speaker and author on creative and critical thinking, teamwork, emotional intelligence, holistic organizational leadership, and talent management.
Find her on 👉 LinkedIn & Twitter
Claude Silver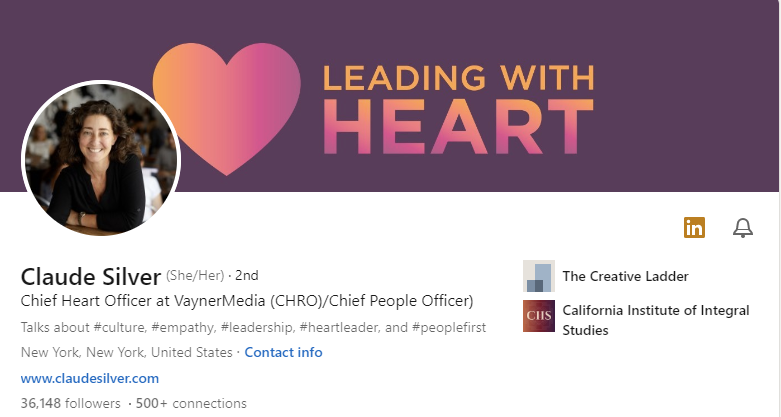 Claude is the Chief Heart Officer at VaynerMedia, where she oversees talent management, employee experience & retention, learning & development, coaching, culture, and more. She is a coach, manager, mentor, and self-proclaimed "emotional optimist."
On her social media channels, Claude usually publishes content about having brave discussions at work, expressing gratitude, motivating your team, and leading with your heart. Give her a follow if you want to learn more about leadership, company culture, and empathy in the workplace.
Find her on 👉 LinkedIn & Twitter
Natal Dank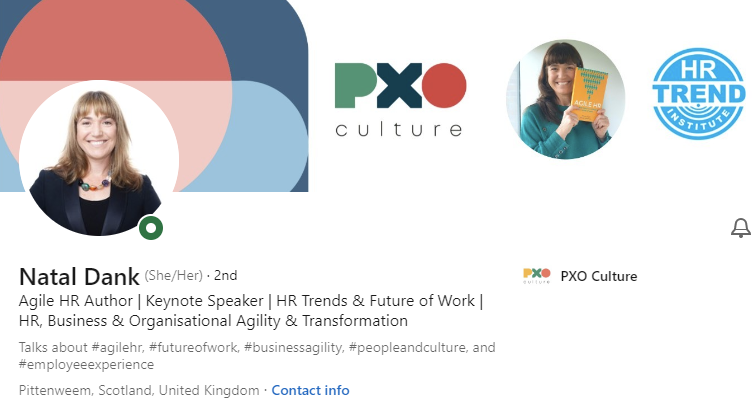 Natal is a co-founder at PXO Culture, an HR and business agility learning, consultancy, and coaching agency. She is a well-known pioneer in Agile HR and corporate agility.
She has spent decades in HR, talent, and organizational development roles. She now coaches clients in all industries on developing amazing employee experiences.
To create a group of like-minded disruptors, Natal organized the first Agile HR Meetup in London in 2016. Since then, this group has expanded into a movement altering the worldwide HR industry.
Find her on 👉 LinkedIn & Twitter
Melissa Daimler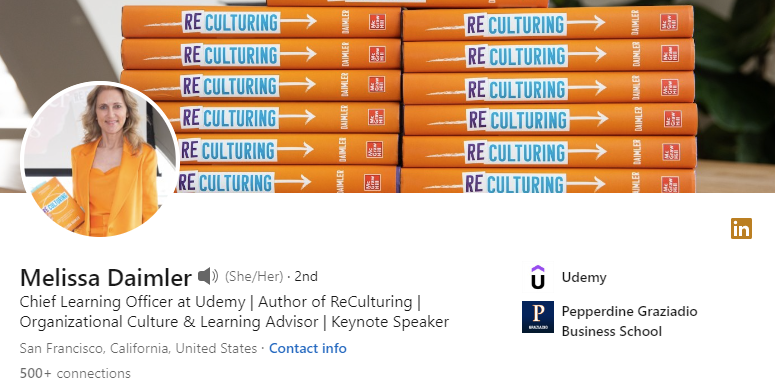 Melissa is the Chief Learning Officer at Udemy, developing learning strategies for customers and employees. Additionally, she is a keynote speaker and organizational culture and learning advisor.
She contributes to broad industry publishers, including Harvard Business Review (HBR), Huffington Post, Chief Learning Officer, and Chief Talent Development Officer magazines.
With over two decades of experience across Learning and Development, Talent Management, and Organizational Development, Melissa is an HR influencer every professional should keep an eye on.
Find her on 👉 LinkedIn & Twitter
Gautam Ghosh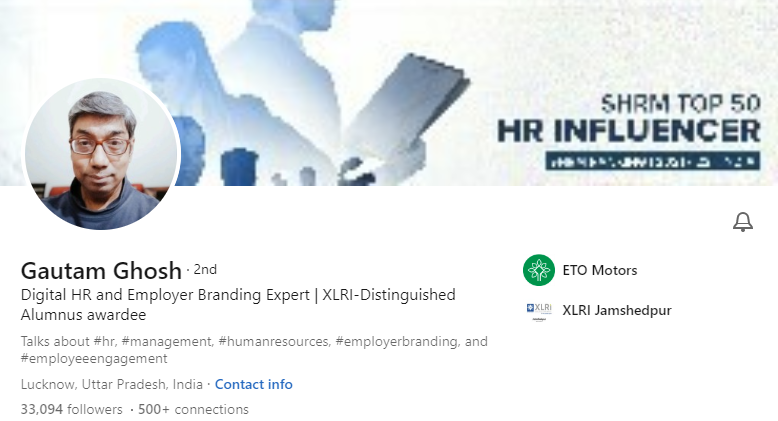 Gautam is a digital HR and employer branding expert specializing in HR, organizational development, and how businesses can leverage social tools for HR.
He is one of the HR influencers who has held positions as an HR generalist and learning and development executive in well-known organizations. In addition, he is frequently quoted as an expert on business blogging.
Find him on 👉 LinkedIn & Twitter
HR analytics and strategy influencers
Steve Browne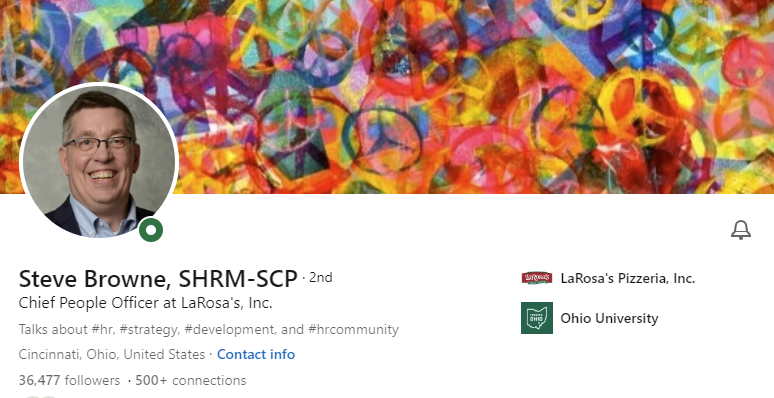 Steve has more than 30 years of expertise in the HR field. He has experience working in HR positions in various industries and is an expert in networking, company culture, and employee relations.
He is currently the VP of Human Resources at LaRosa's local pizza restaurant. In addition, he serves on the board of directors of SHRM, oversees the Everyday People blog, and frequently delivers speeches at HR conferences and events.
With more than 47K followers on Twitter and 36K followers on LinkedIn, Steve often discusses issues related to organizational culture, HR strategy, and development.
Find him on 👉 LinkedIn
Jon Ingham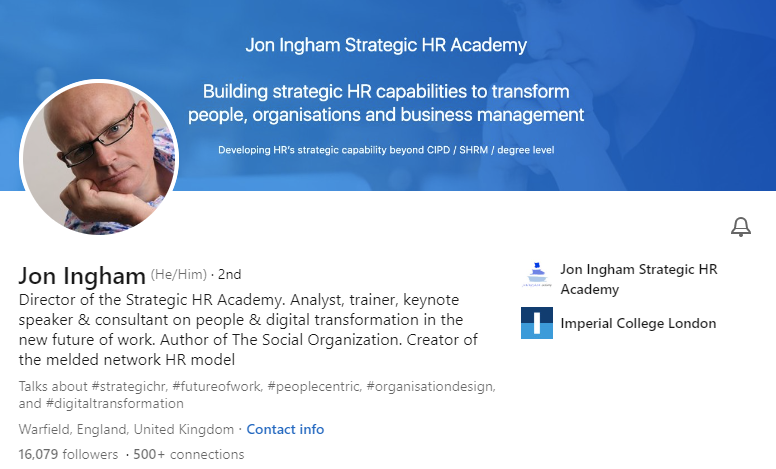 Jon is a well-known author, keynote speaker, people and organization development strategist, and a global thought leader on values-based HCM and HR technology.
He is also the author of Strategic Human Capital Management: Creating Value through People, a must-read for every HR director. Every week, millions of individuals visit his blog, Strategic HCM.
Jon is currently the director, strategic HR trainer, and learning facilitator at Jon Ingham Strategic HR Academy, where he focuses on helping HR practitioners and teams develop their strategic capabilities.
Find him on 👉 LinkedIn & Twitter
Glen Cathey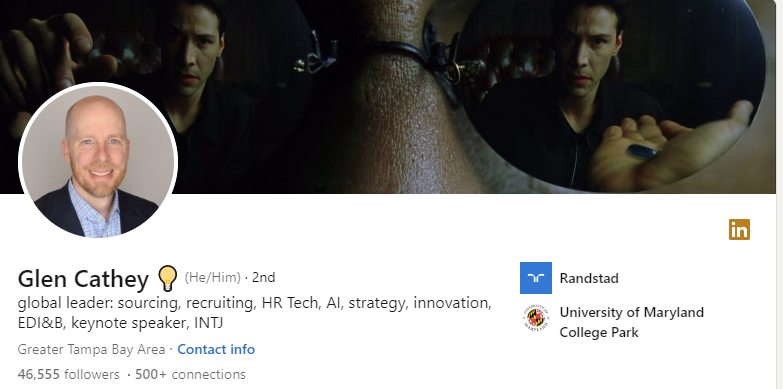 Glen is the SVP, Head of Digital Strategy and Innovation at Randstad. With more than 25 years of experience in recruiting and staffing, he is a globally recognized keynote speaker, strategist, and innovator.
He is passionate about making a difference, diversity, inclusion, and belonging, developing others, sourcing & recruiting, innovation, digital strategy, technology, data & analytics, performance, and solving problems.
Find him on 👉 LinkedIn & Twitter
Alexis Fink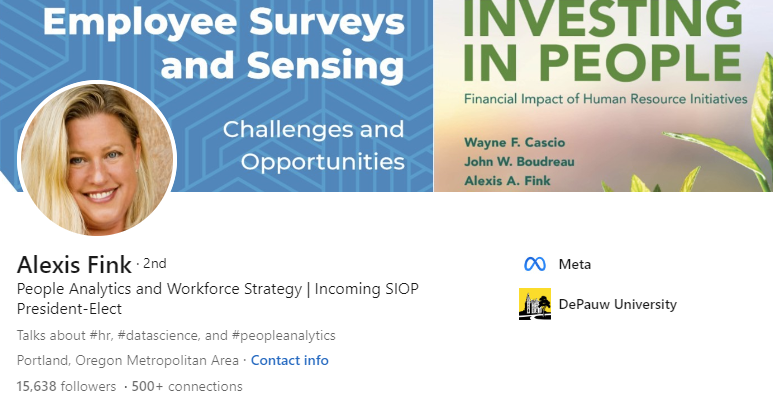 Alexis is the VP of People Analytics and Workforce Strategy at Meta. She has worked extensively in organizational transformation, organizational culture, leadership assessment, and applying cutting-edge analytical techniques to human capital issues.
She has led people analytics teams at several major tech companies. In addition to several articles and book chapters, she has authored two novels. With over 15K followers on LinkedIn, Alexis usually talks about people analytics, data science, and HR.
Find her on 👉 LinkedIn
Tyrone Smith Jr.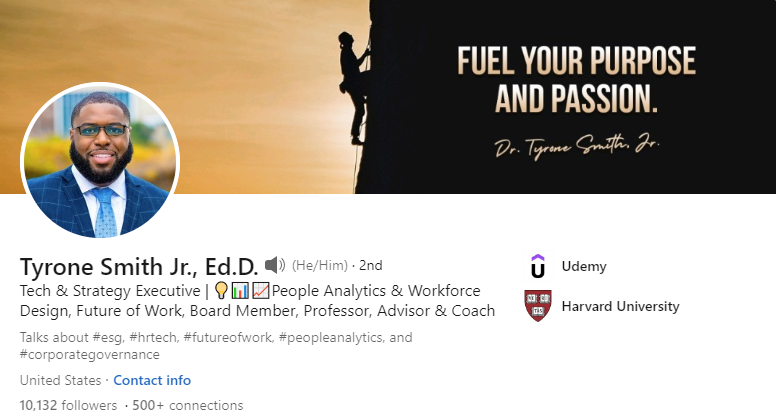 Tyrone is the Global Head of People Analytics, Research, Technology & Insights at Udemy, a professor, advisor, and coach on tech, strategy, and people analytics.
His research interests and focus are on people analytics, workplace diversity, the future of work, and people and digital transformation.
He has more than 10K followers on LinkedIn, where he discusses data analytics, human capital management, HR tech, and strategy.
Find him on 👉 LinkedIn
Jen Kirkwood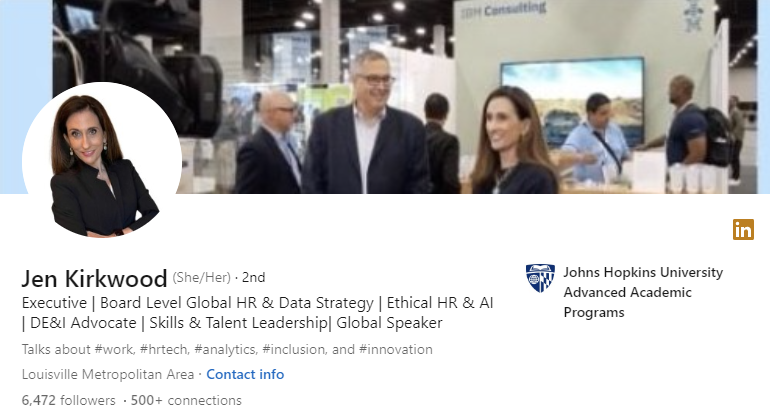 Jen is currently a partner at IBM, a global speaker, board presenter, coach, mentor, and speaker. She brings over 27 years of reputable project and board-level executive expertise in HR and data strategy.
She has continuously been recognized as one of the world's top thought leaders in HR and data technologies, as well as one of the "Top Women in Data Analytics To Watch" and "Top 65 Global Thought Leaders." As she combines HR and operations for people insights, her skills have given her access to knowledge in HR, ethical AI & data, security, & privacy initiatives spanning the globe.
Find her on 👉 LinkedIn
Sarah White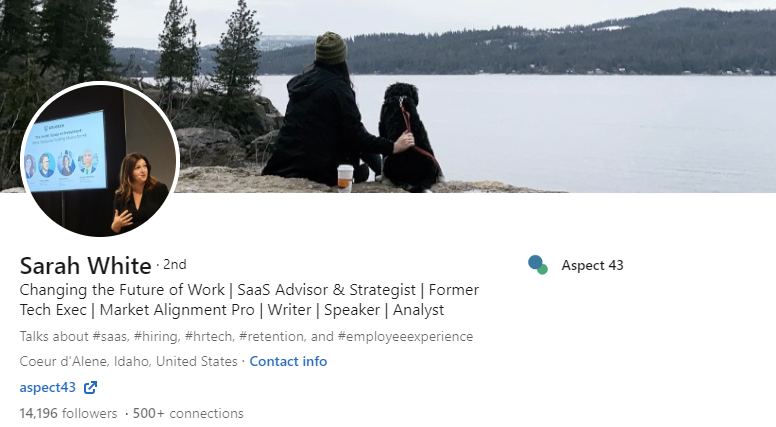 Sarah is the CEO and Head of Research at Aspect43, a leading analyst, advisory, and strategy firm.
On top of conducting research on and writing on HR and recruiting technologies, she collaborates with software and solution suppliers and investors to employ data-driven methodologies.
Since 2007, she has spoken at numerous HR, business, and technology conferences. She has also been profiled in multiple publications, including SXSW, Fast Company, NBC News, Huffington Post, HR Executive, the Wall Street Journal, and more.
Find her on 👉 LinkedIn & Twitter
David Green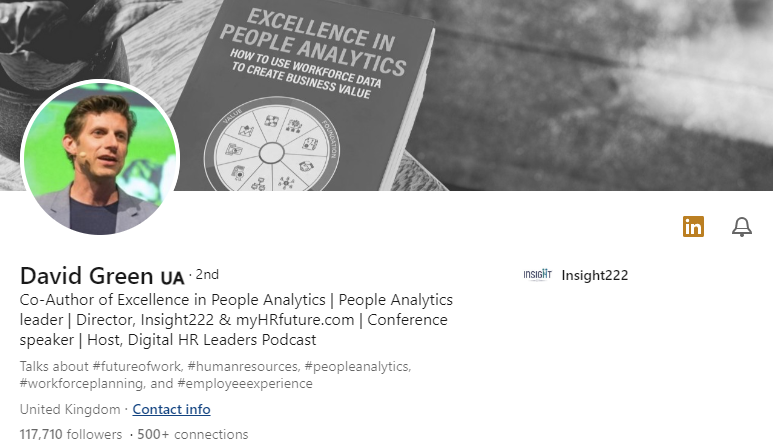 David works as an Executive Director for the Fortune 100 corporations at Insight222 and myHRfuture.com. He is an expert in people analytics and data-driven HR, conference chair, writer, and speaker.
His data-driven hiring strategy makes him stand out of the crowd. The HR influencer works from home and is well-known for giving practical advice to people who want to broaden their horizons and find new possibilities.
David is one of the key figures in HR and a co-author of the book Excellence in People Analytics, which offers a distinctive perspective on people analytics. The book teaches HR professionals how to implement the proper infrastructure and technologies for data collection to instill an analytics culture within the HR team.
Find him on 👉 LinkedIn & Twitter
Lynne Oldham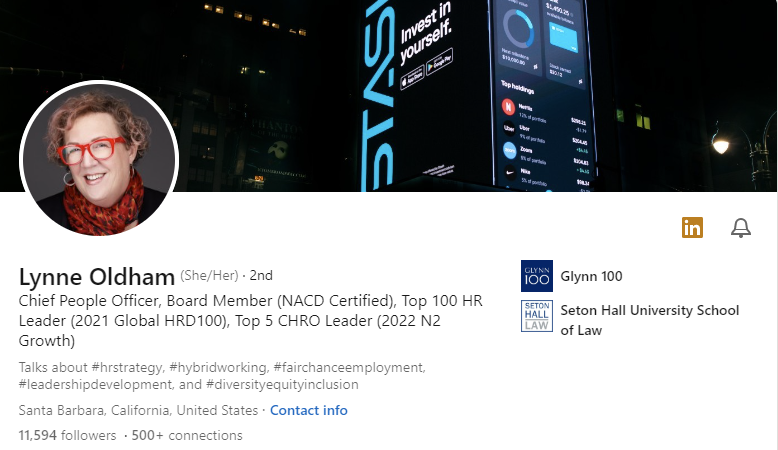 Lynne is the Chief People Officer at Glynn 100 and Stash, bringing over 20 years of progressive experience in strategic HR leadership and key talent acquisition in various industries.
Her mission is to create engaging, productive, and profitable organizations. She is interested in leveraging diversity and developing people's agendas that motivate employee belonging and engagement to drive results.
Find her on 👉 LinkedIn & Twitter
Jeanne Meister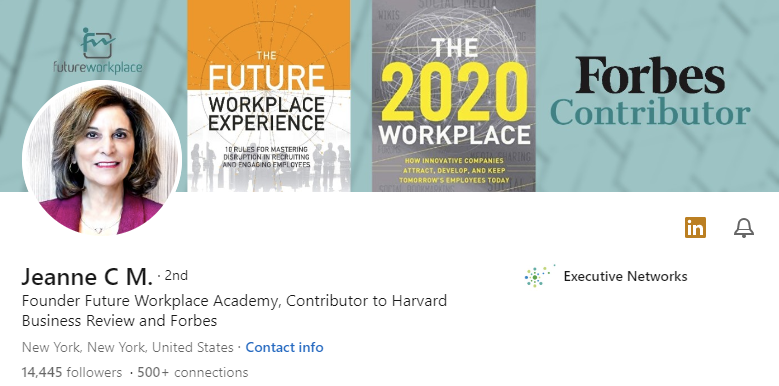 Jeanne is an "activist and workplace visionary" and is best known for co-authoring the popular book The Future Workplace Experience: 10 Rules For Mastering Disruption in Recruiting and Engaging Employees.
With a background in corporate learning, she is one of the top HR influencers to follow. She started the Future Workplace Network to foster dialogue between CEOs and leaders as part of her efforts to raise awareness of the future of the workplace.
The well-known influencer who enjoys speaking has also written for several prestigious publications, including Forbes, the Financial Times, and Harvard Business Review.
Find her on 👉 LinkedIn & Twitter
Talent management influencers
Katrina Collier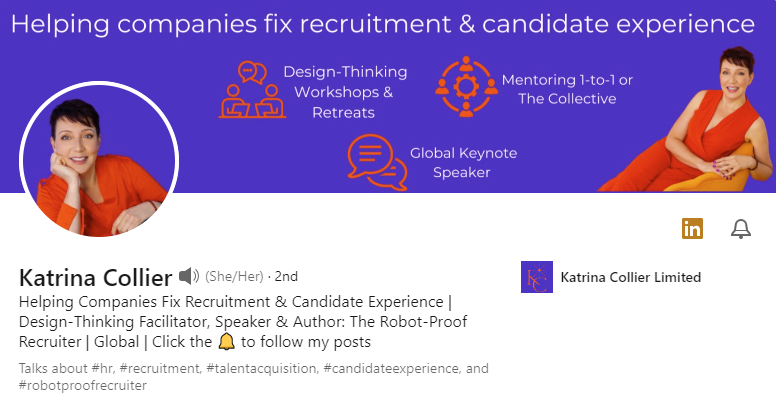 Katrina is a design-thinking facilitator, global keynote speaker, mentor, and author of The Robot-Proof Recruiter, a well-known book for improving the candidate experience. She is also the co-host of the Hear The Talent People podcast.
She is on a mission to help companies improve their recruitment processes and boost their response rates. Katrina often talks about talent acquisition, recruitment, and candidate experience on her social media channels.
Find her on 👉 LinkedIn & Twitter
Bryan Chaney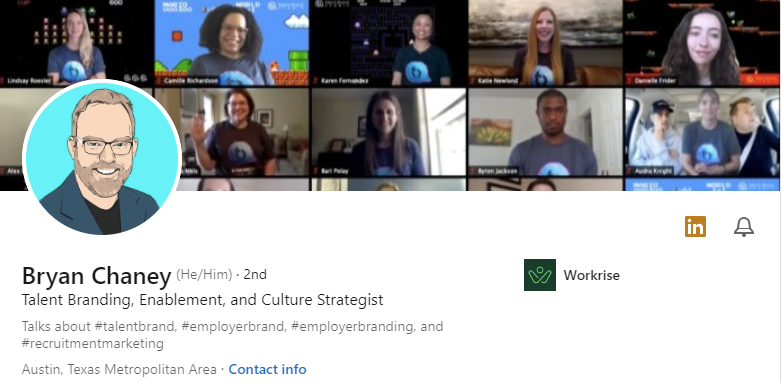 Bryan is the Director of Talent Brand, Culture, and Development at Workrise. He is also a culture strategist, international keynote speaker, and talent branding and recruitment trainer. On his LinkedIn profile, Bryan says he loves "helping brands reach, engage, and develop the talent they need to grow by telling their story better."
He has spoken on social media, career strategy, talent sourcing, branding, and attraction techniques at SHRM, Social Media Club, Social Media Breakfast, SourceCon, RISE, ASTD, PubCon, HR Vision, Indeed Interactive, TalentNet, and PubCon.
Find him on 👉 LinkedIn & Twitter
Sharlyn Lauby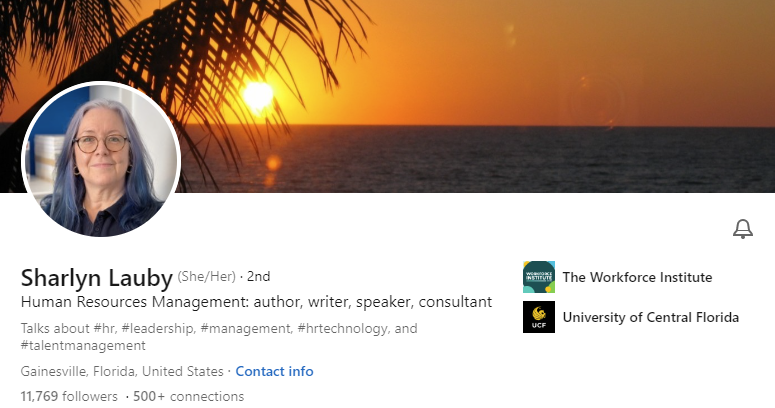 Sharlyn is a board member at The Workforce Institute, which provides research and education on global critical workplace issues facing organizations.
She is also an author, writer, speaker, trainer, and consultant on HR management. She has authored books on hiring, holding productive meetings, developing leaders, and fostering employee engagement.
On her blog, HR Bartender, Sharlyn covers HR-related and other topics. The blog was named one of the top 5 HR blogs by the Society for Human Resource Management (SHRM).
Find her on 👉 LinkedIn & Twitter
Shally Steckerl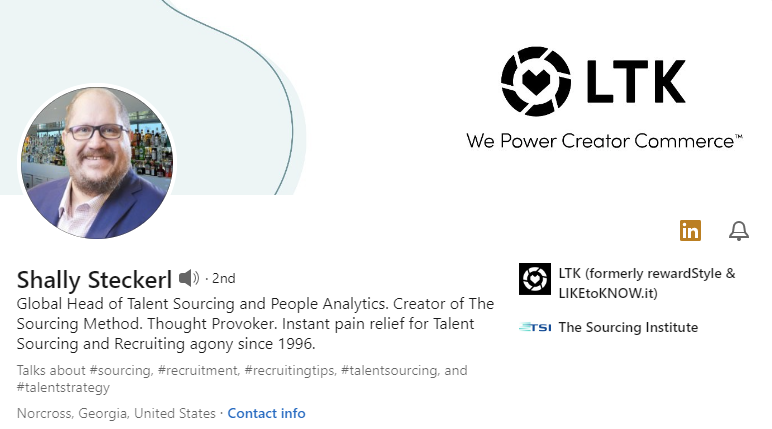 With over 25 years in talent sourcing and recruitment, Shally is one of the most prominent names in the industry. He is the Global Head of Talent Sourcing and People Analytics at LTK, where he is responsible for accelerating, scaling, and optimizing its global hiring processes.
Shally describes himself as a "rebel, pioneer, founder, thought provoker, husband, father, and innovator." His third book, The Sourcing Method, is the definitive work on how to improve talent acquisition.
Since 1996, he has given thousands of keynotes, workshops, and webinars worldwide, enabling recruiters to quickly locate talent that is hard to find.
Find him on 👉 LinkedIn & Twitter
Stacy Donovan Zapar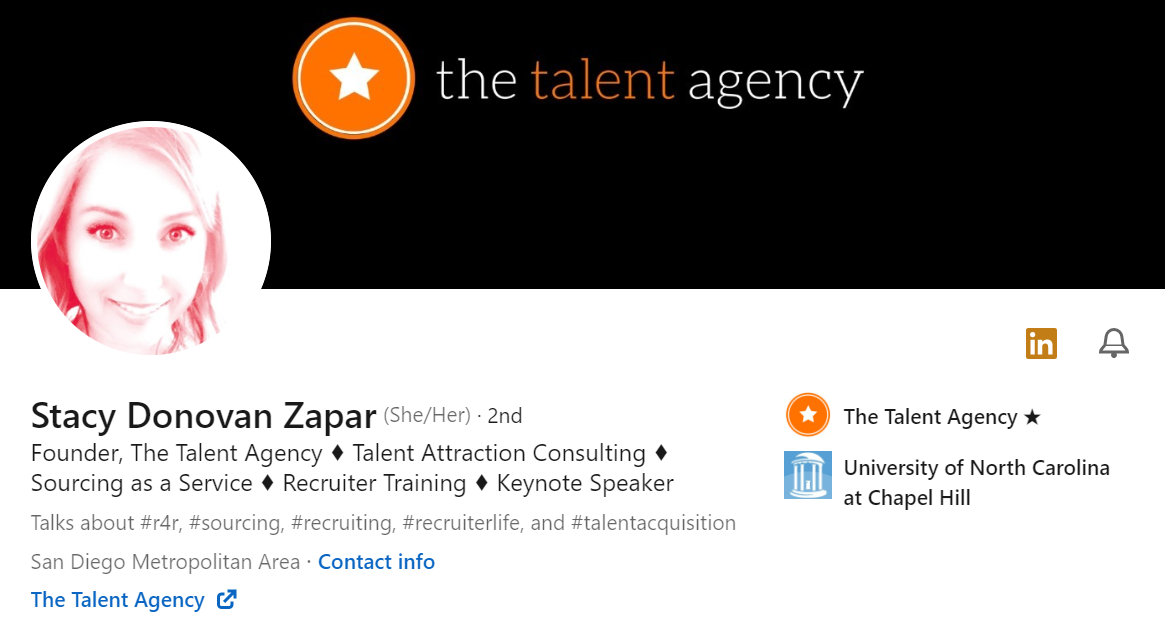 Stacy is the founder and principal of The Talent Agency, a boutique recruitment consultancy specializing in talent attraction consulting, sourcing-as-a-service, and executive search for top employers.
She is a talent attraction consultant, keynote speaker, and trainer. Different magazines in the industry gave Stacy many awards and nominations.
She was also featured in numerous publications, such as The Washington Post, Entrepreneur, Fortune, Harvard Business Review, and Forbes.
Find her on 👉 LinkedIn & Twitter
Jessica Miller-Merrell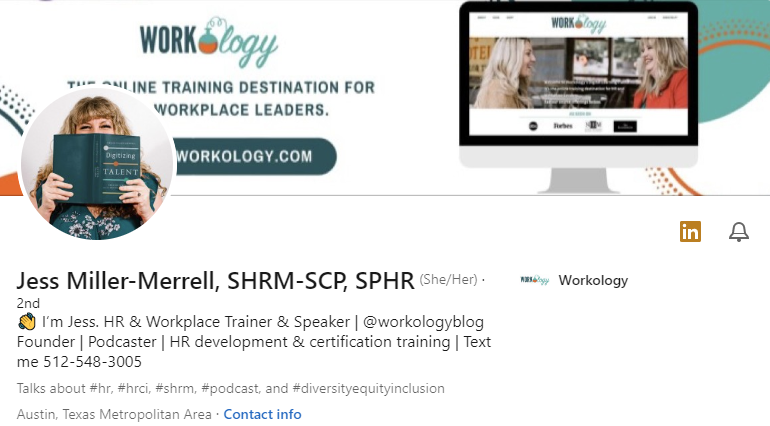 Jessica is the Chief Innovation Officer of Workology, a popular community and valuable resource for HR, workplace, and recruiting. She has a passion for HR, talent acquisition, technology, and personal and professional development, which is why she started Workology in 2005.
She says she is on a mission to upskill, uplevel, and upgrade new managers, the HR industry, and exceptionally high-performing HR leaders by offering them excellent digital and online instructional materials.
Find her on 👉 LinkedIn & Twitter
Hung Lee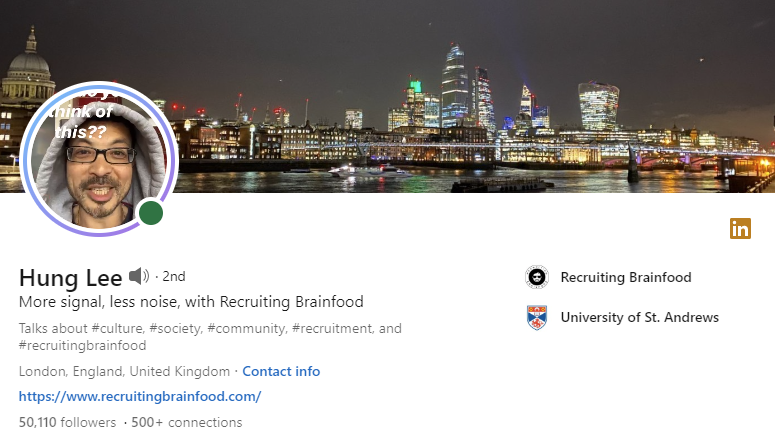 Hung is the curator of Recruiting Brainfood, a weekly newsletter for the talent industry covering AI, blockchain, culture, future of work, employer branding, sourcing, tech hiring, D&I, assessment, and organization network analytics.
With over 15 years of experience in the recruitment industry, working as an agency recruiter, recruitment manager, internal head of talent, and recruitment trainer, he is a must-follow for tips and tricks.
Find him on 👉 LinkedIn & Twitter
Liz Ryan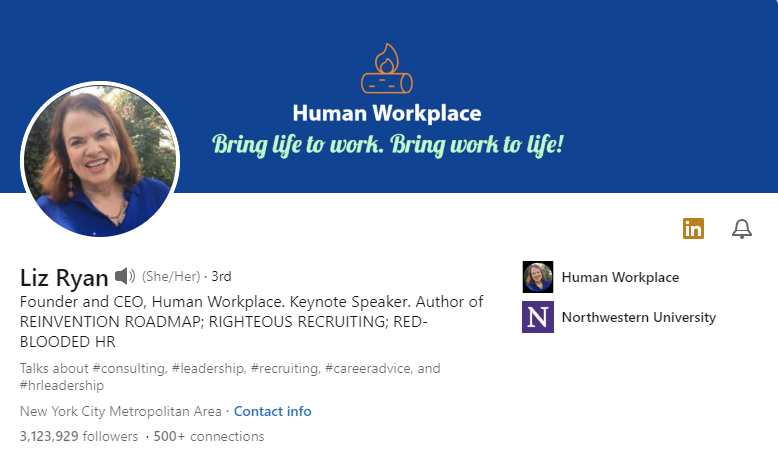 Liz is the founder and CEO of Human Workplace, a coaching, content, and consulting firm. She is a keynote speaker and author of many books, including REINVENTION ROADMAP: Break the Rules to Get the Job You Want and Career You Deserve.
She writes and speaks about the new-millennium workplace, is an expert witness on employment matters, and advises CEOs and entrepreneurs on people strategy and HR issues. In her own words, Liz is on a quest to reinvent work for people.
Find her on 👉 LinkedIn & Twitter
Greg Savage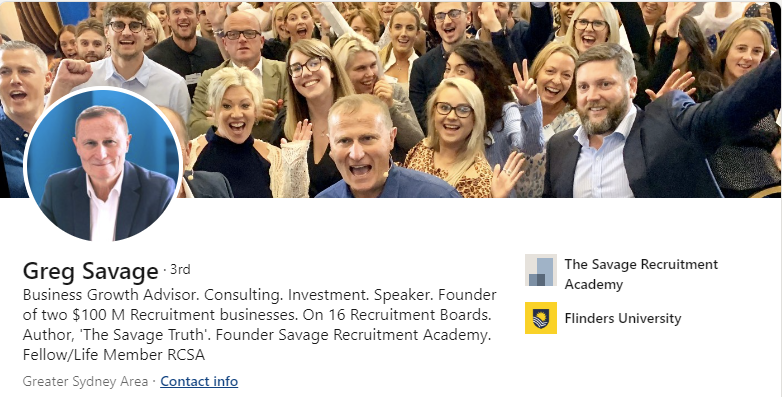 Greg is a Business growth advisor, speaker, founder of two $100 million recruitment businesses, and a member of 16 recruitment boards.
He is the author of The Savage Truth, a best-selling book on recruitment, and the lessons he has learned on leadership, business, and life over a career spanning four decades. Greg was voted the most influential recruiter in Australia in the past 60 years and named the most influential Australian businessperson on Twitter.
Give him a follow to discover his insights, advice, and mentoring tips on how to build highly profitable, multi-site recruitment companies across disciplines and international borders.
Find him on 👉 LinkedIn & Twitter
Jan Tegze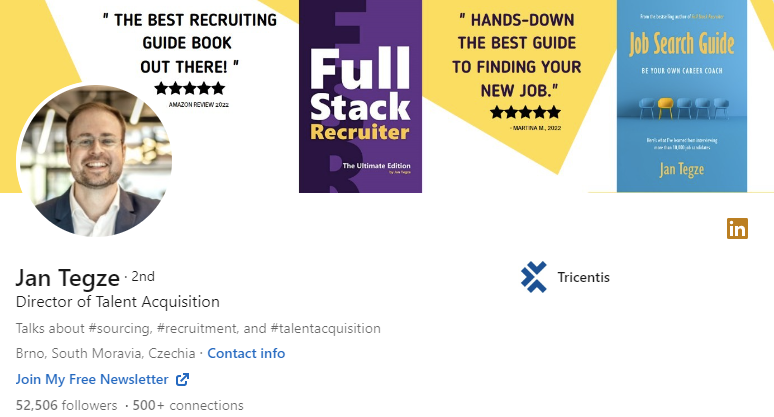 Jan is the director of Technical Recruiting at Tricentis, a speaker, trainer, blogger, and talent acquisition leader. He is also the author of Full Stack Recruiter: The Ultimate Edition, a comprehensive recruiting guidebook that is a must for everyone in the field.
He has extensive experience managing teams and establishing recruitment and sourcing processes. During events and conferences, Jan covers international recruitment, sourcing methods, growth hacking, recruitment and sourcing tools, sourcing strategies, reporting, analytics, and many more.
Find him on 👉 LinkedIn & Twitter
Follow HR influencers to upscale your skills
2022 was a year of business growth, company culture development, and new talents discovery. Our predictions indicate that the same HR trends will characterize the following years.
As an HR professional, people manager, or simply an enthusiast for HR technology, you must keep a close eye on how the workplace is changing.
These top 50 HR influencers will light up your feed and stimulate your mind, helping you stay connected with the most popular HR discussions.
Follow them on their social media channels and say "hi" if you need advice on any HR tech, DEI, organizational and leadership development, HR analytics, or talent acquisition.