5 Thought Leaders Share Their Insights on Building High-Performing Teams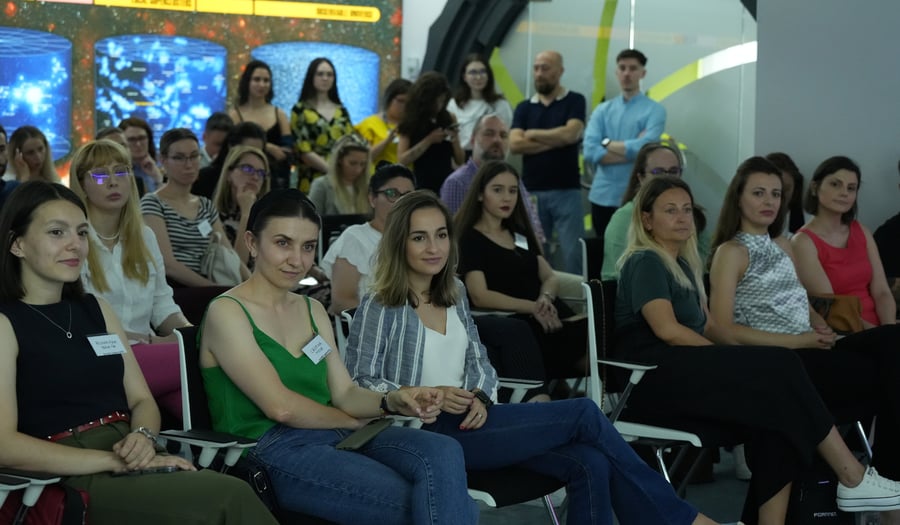 In the fast-paced AI and digital age, staying ahead of the curve is essential for achieving success and building high-performing teams. Recognizing this need, Mirro recently organized the "Leader's Equation: Unleashing Success through Connection, Collaboration, and Clarity" event, which proved to be a valuable resource for people leaders seeking to enhance their organizational cultures.

Our free in-person event brought together industry experts and featured Laura Ștefan, Managing Director at Accace Romania; Rareș Băcioiu, People Analytics & Tools Manager at eMAG; Evelina Necula, Co-founder & CMO at Kinderpedia; Lucian Mățăoanu, CEO at Hyperfy; and Raluca Răschip, Co-founder at Teamology Institute, as our speakers.
Attendees were treated to various topics encompassing relevant insights on inspiring growth, engagement, and empowerment for high-performing teams in the AI and digital age.
What does success in an organization mean?
We started the event by asking our speakers what success means in an organization, how people leaders can measure success, and how a successful team looks. Although our speakers' answers varied, they all came to the same conclusion: business success is closely tied to employee experience.
Laura Ștefan: Success is a journey. A business achieves success when it reaches its goal with a united team. Knowing that everyone contributes in one way or another to achieving that goal is vital.
For Lucian Mățăoanu, the one-size-fits-all approach to success is ineffective. He highlighted the importance of recognizing the uniqueness of individuals and their diverse definitions of success.
An effective approach lies in understanding the connection between individual and organizational success, where middle management plays a crucial role. Middle management acts as a bridge between the goals and objectives of the organization and the aspirations and motivations of individual employees.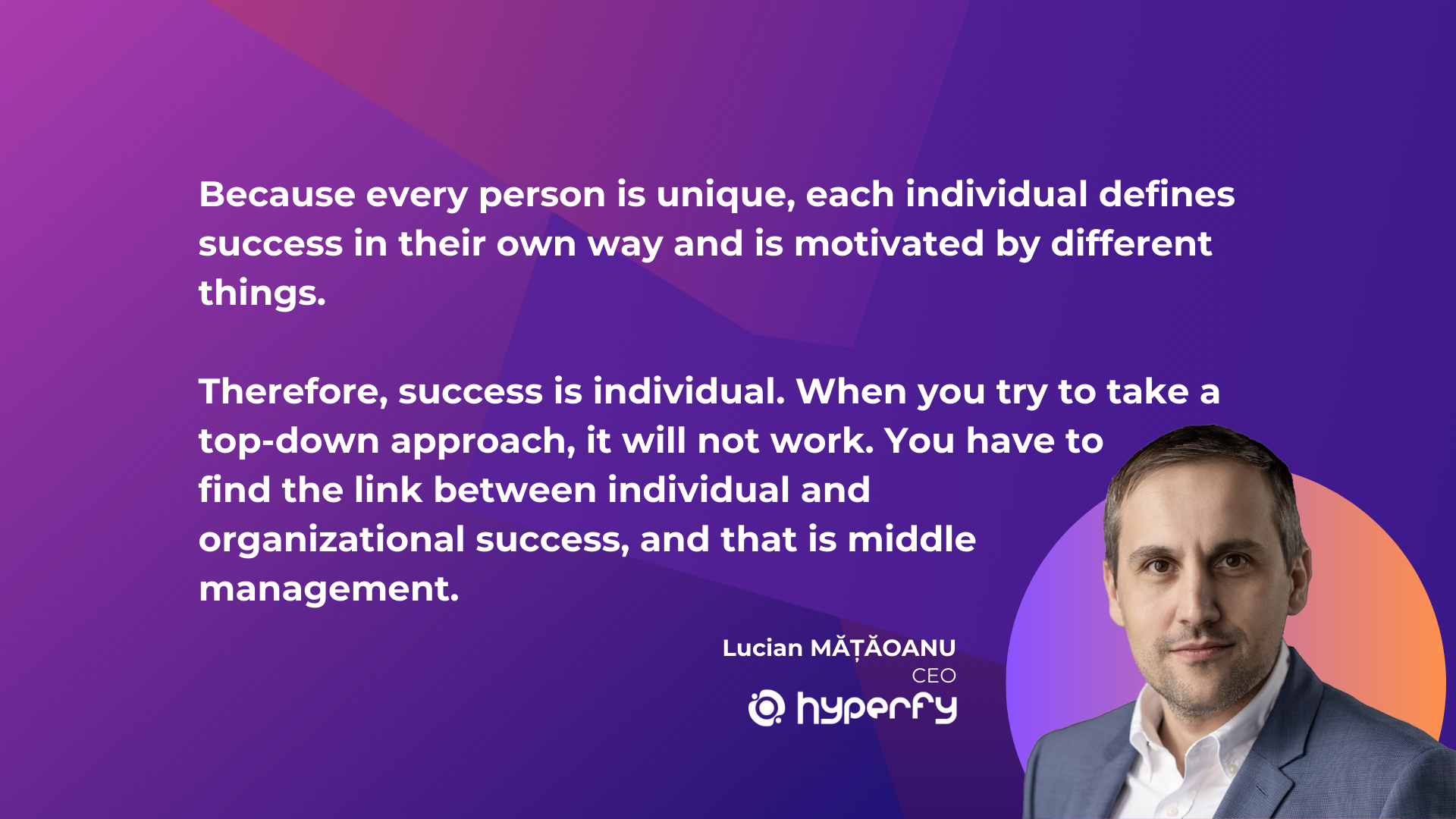 Additionally, Raluca Răschip explained that business success is related to the company's mission, so it must be constantly communicated to people. As a leader, you must give your employees direction, inspire them, and help them understand the mission.
Raluca also shared that a successful team has three main characteristics:
Delivers high-quality work that meets client expectations;
Constantly improves capabilities and learns new skills;
People enjoy being part of the team. It is important for employees to work in an environment where they can grow and develop.
How can leaders build a psychologically safe environment?
As we demonstrated that business success is related to people's experiences within the company, we wanted to learn how leaders can build a safe work environment where people feel seen and heard.
So, how can leaders create a culture where people can express themselves freely without feeling judged? In short, leaders must create a safe work environment where people can openly discuss positive and negative things and work together to solve problems.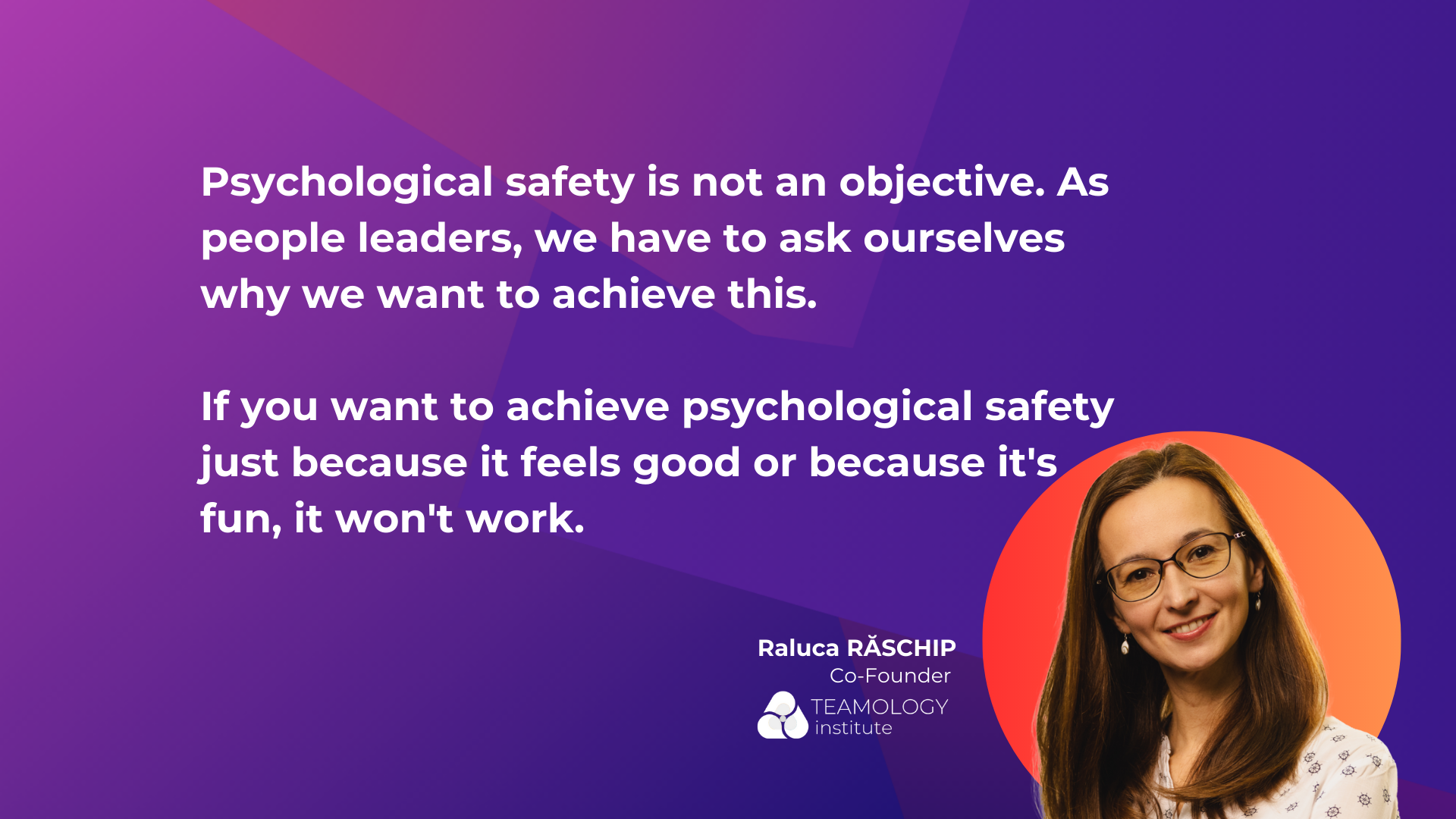 During our discussion, we learned that psychological safety has four dimensions:
Inclusion and diversity - people feel included and heard;
A positive attitude towards risk and mistakes - people feel safe expressing their problems;
Open conversation - people talk freely about uncomfortable things together as a team;
People can and want to help each other - leaders must create structures and processes where people work together, not compete against each other.
Diving deeper into the conversation about psychological safety at work, we were curious to see what concrete actions our speakers take to create such an environment.
Rareș Băcioiu shared that eMAG runs an employee satisfaction survey twice a year to identify potential concerns and challenges people might have. By confronting the results with the team, leaders demonstrate a commitment to transparency and a willingness to listen to and understand the experiences of their employees.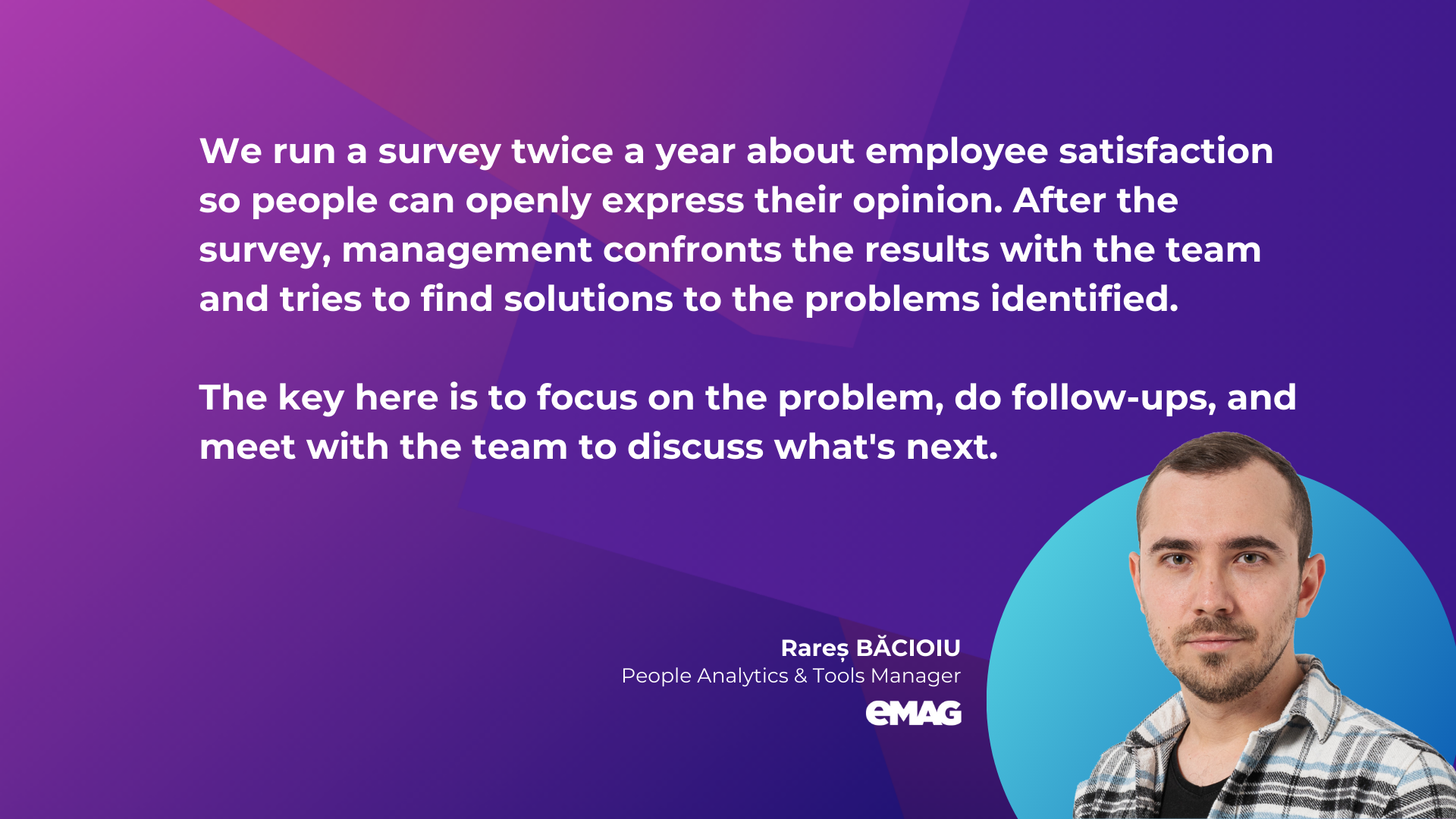 For Laura Ștefan, the most important thing is to create a safe environment where people can openly discuss their concerns and share constructive feedback without fear of judgment or retribution.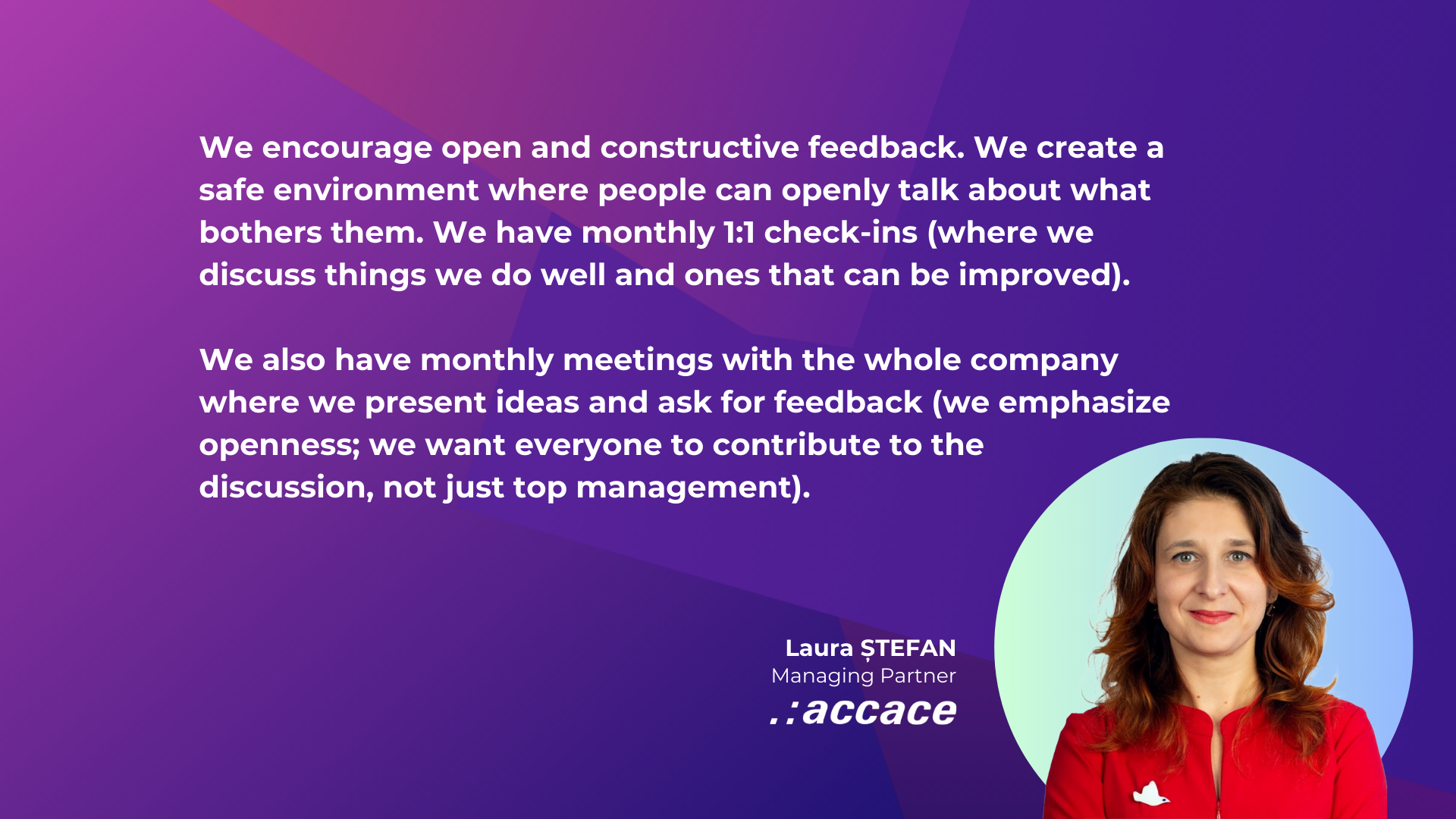 How can we increase employee engagement in the workplace?
According to a Gallup survey, only 23% of people are engaged at work. Leaders' job is to search for ways to increase this staggering percentage.
One way to improve employee engagement is to identify the disengaged ones and involve them in different activities. Ask for their opinion, even if you know that sometimes they will say things you don't like to hear, and call them into the office more often to spend time with their peers.
Lucian Mățăoanu: I believe in the power of flat companies. They create an environment that brings people together. When people meet with each other, they can truly collaborate.
Another important aspect is to be confrontational and admit when there's a disengagement problem. Evelina Necula highlighted the importance of open and honest communication within teams and the role of leaders in fostering a culture of transparency.
To maintain a harmonious atmosphere, teams often shy away from discussing problems openly, fearing that it may strain relationships. However, this approach only perpetuates the issues and hinders growth. Evelina recognizes the power of addressing problems head-on by advocating for open dialogue.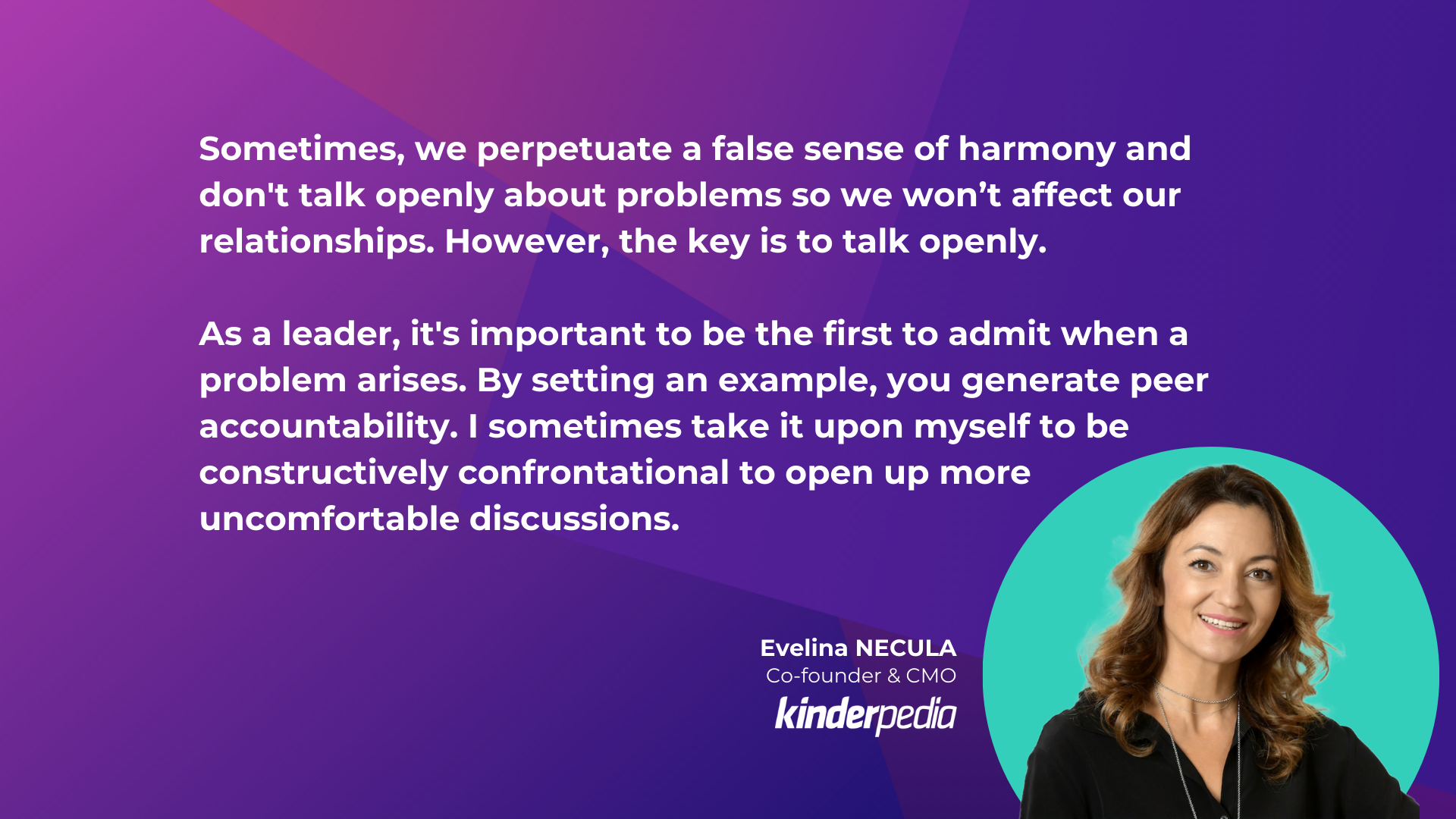 How do people leaders measure individual and team performance?
Before setting up a framework to measure individual and team performance, people leaders must first clarify the structure within teams. An OKRs framework is the perfect strategy to reach alignment and increase productivity. This framework helps companies identify and effectively track their goals and outcomes.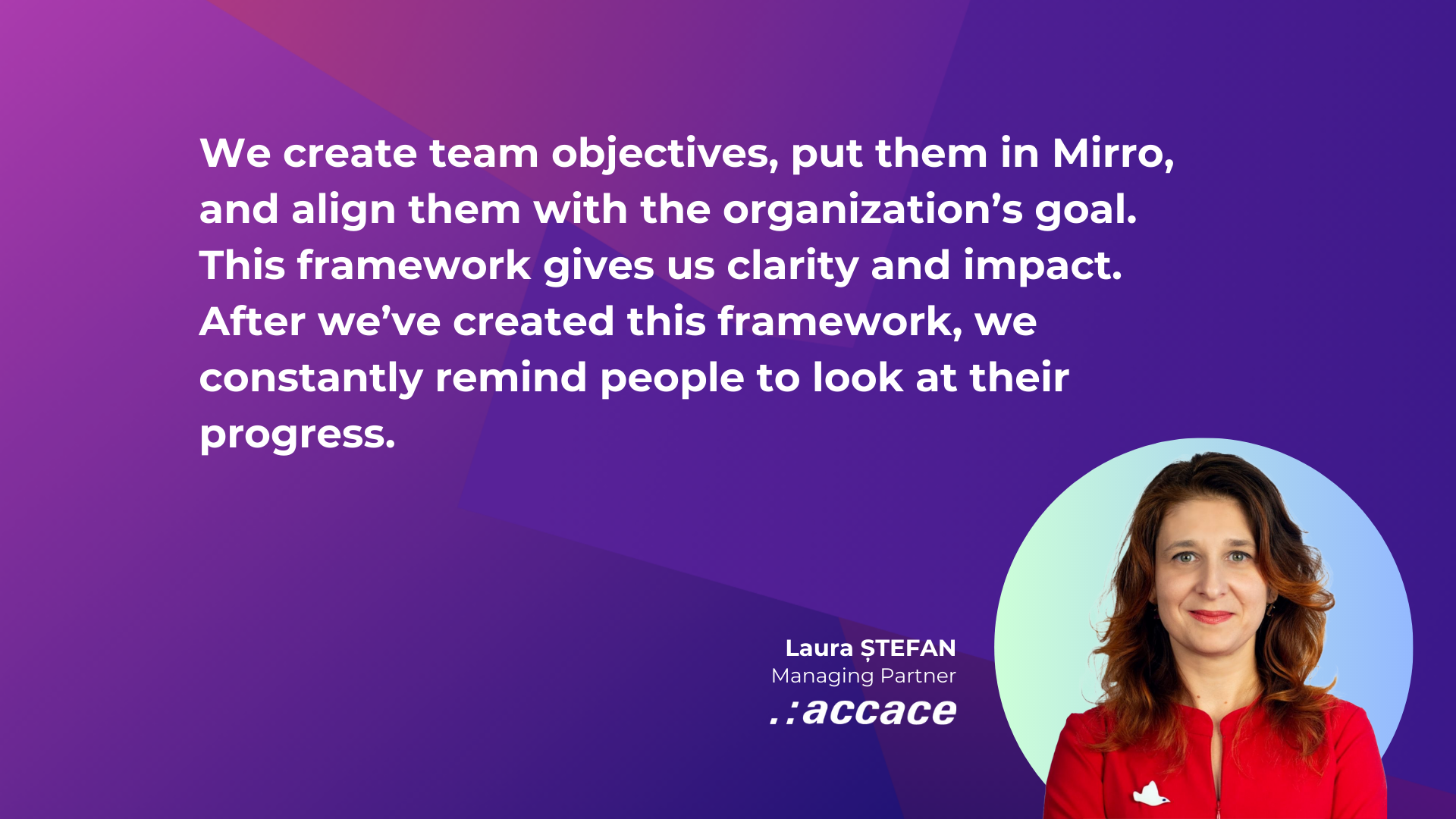 After you've created the setting to track performance, you have to be pragmatic and look at what brings growth. Of course, metrics are important as they set the baseline, but leaders need to contextualize performance. Numbers look good on paper, but if people don't feel happy working at the company, leaders set themselves up for failure.
Rares Băcioiu: We measure individual and team performance in Mirro. This is performance management done correctly - it gives you clarity so you know what to improve.
Mirro is a performance management software that helps people understand the company's goals and how they fit into the organization while driving employee and business performance.
How can technology and AI help in business growth?
To finish our insightful session, we discussed the power of technology and AI in shaping organizational cultures. We talked about how technology can help us measure and increase performance, how AI can help leaders make better business decisions, and how it can support constructive feedback.
Rares Băcioiu: Working with technology helps us grow. Without technology, you can't get to more complex problems. Technology and AI can automate our work and streamline processes.
AI is definitely here to stay. Beyond helping us simplify work and make it more efficient, it can help us remove bias and give us access to resources we didn't think of.
Lucian Mățăoanu: AI's place is in companies. It will help us better understand what humans do in their daily jobs and how we can save time on certain tasks. By digitizing processes, we gain more time for more creative activities.
Foster growth and engagement with Mirro
As businesses strive to navigate the digital landscape and achieve their goals, staying informed about the latest trends, best practices, and strategies is paramount.
With the support of industry know-how and the expertise of companies like Mirro, people leaders and organizations can equip themselves with the necessary knowledge and HRIS platforms to improve their cultures and create better experiences for their people.
So keep an eye out for our future events, as they will deliver invaluable guidance and empower attendees to thrive in the modern workplace. We hope to see you very soon!
In the meantime, we have a special offer for you. If you want a solution to enhance your company's performance and unite your people, you can get Mirro at 50% off for the first six months.