Small Companies Are Big Business for Your Career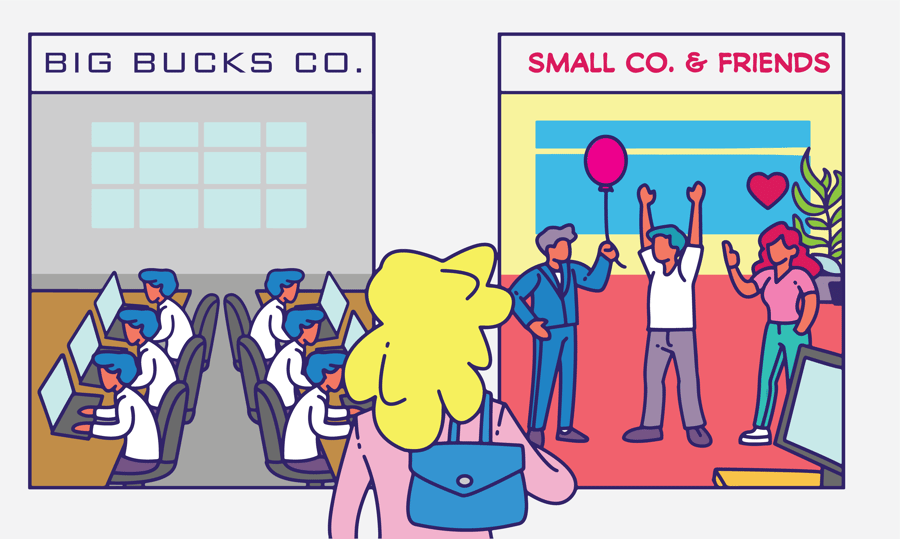 You probably know the cliches.
When you take a job with a corporation, you're trading your soul for a cubicle and a steady paycheck. You need to learn a lot of lingo fast and, of course, always be thinking of the shareholders.
If you opt for a small company, it's all hustle and bustle to change the world while staying afloat. All with a ping-pong table nearby, for some reason.

But there's more than meets the eye here, so let's take a closer look at what makes small companies such attractive employers.
Small companies: a force to be reckoned with
In the words of businessman Richard Branson, all big businesses start small. And it checks out. They're not the underdog that needs rooting for, but a valid option at all stages of your careers.
Here's what small companies (think less than 50 employees) can offer you and how they help you thrive: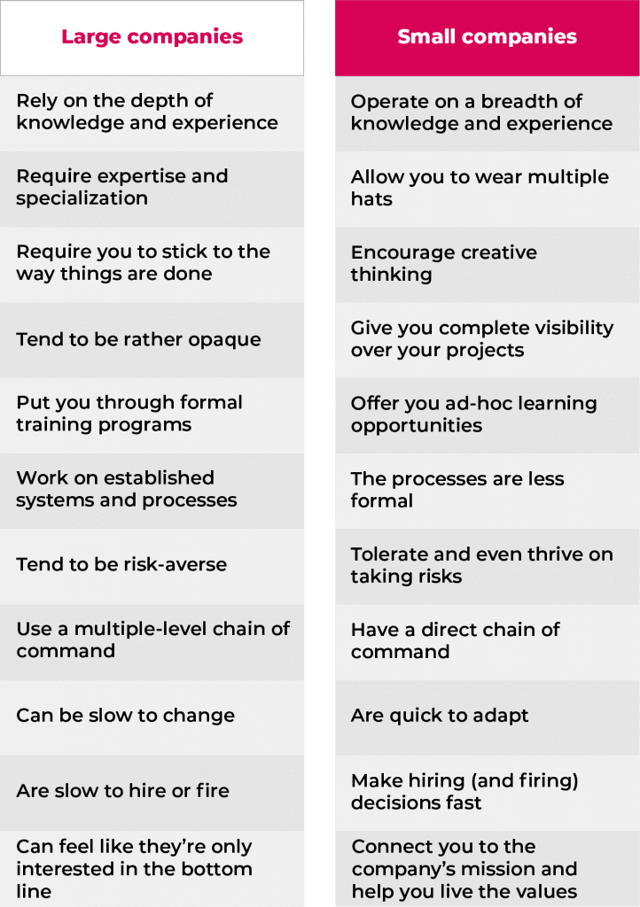 As you can tell, it's a lot easier to feel connected to the company's mission and not lose sight of what you're trying to achieve when you're dealing with a small business. Values are not just words written on a wall you pass by every day, but standards of behavior you get to experience and use in making decisions.
These are places that can make you tingle and give you a sense of belonging. Plus, they have some benefits that come with the territory, so let me tell you more about them.
Everybody knows your name
In a corporation, getting lost in the crowd is easy. However, at a small company, everyone literally knows your name. You're not employee no. 28,643, you're Alexandra, who loves foxes and would move to Iceland in a heartbeat.
The point is: being part of a smaller workforce does have its benefits. That sense of togetherness can't be easily replicated, and a tight-knit group of colleagues is like a family away from home. And while it's not always rainbows and butterflies, it beats feeling like a cog in the machine for most.
No good deed goes unnoticed
A nice perk that goes hand in hand with this kind of visibility is the almost instant recognition you get in small companies. Whenever you put out a fire or reach a new milestone, someone's there to cheer on you. That's because small victories are vital to the company's success and keep the momentum going, so the recognition culture is strong.
Rapid iterations are the norm
The saying is that start-ups move fast and break things. Constant change is the norm for small companies. After all, experimenting with potential ideas and iterating quickly is one of the keys to their success.
When you choose to work in such an office, there are few chances for stagnation. The environment pushes for agility and rapid iterations in cycles like:
Order → disorder → reorder
Orientation → disorientation → reorientation
Integration → disintegration → reintegration
But, just like you, agile businesses can navigate the messy middle, learn their lessons, and come out the other side stronger.
You can work better and smarter
If you were getting ready to deduct points from small companies because it sounds like there's no way they can stay agile and organized, not so fast.Sure, some businesses still operate out of their inboxes and rely on tonnes of spreadsheets to get any admin work done. But some rely on innovative platforms that give all the convenience of seamless processes and add almost no overhead.For example, Mirro is a radically simple all-in-one performance management software. It's perfect for leading teams and accelerating their growth.


One of the many benefits of Mirro is that it sets the stage so you can acknowledge success and foster a culture of positive feedback. Plus, you get to connect your praise to business impact and company values, endorse people, and celebrate it all.
If you usually dread admin work, Mirro has it all covered for you. You'll finally be able to focus on what truly matters and stay organized without keeping 23 tabs open in your browser at all times.
There you have it. Small companies set themselves apart by being ready to offer you meaningful jobs, make you part of their teams, cheer you on, challenge you, and help you stay organized without all the red tape.
Don't let size fool you next time you're job hunting or looking to take the next step in your career.