HR Trends That Will Shape Your Workplace in 2023

Published:
January 30, 2023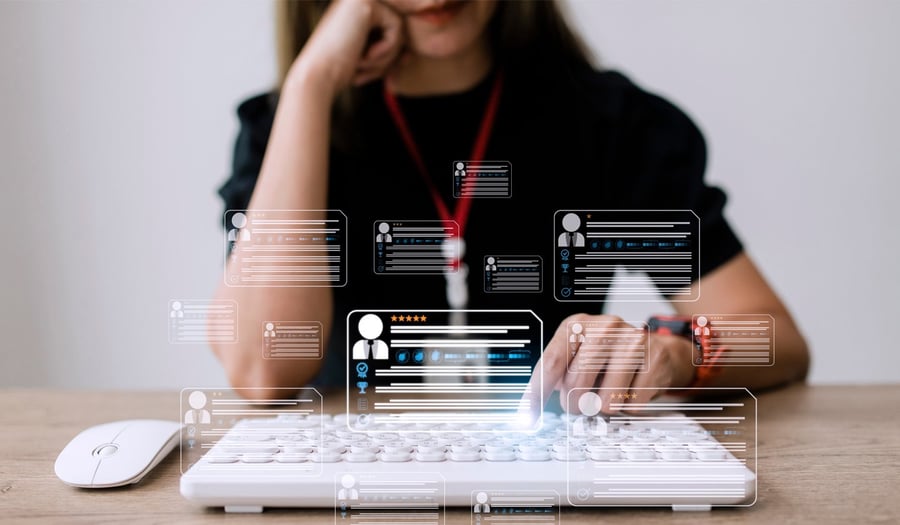 How will your workplace change in 2023? What are the HR trends in 2023 that will define your people strategy? Before finalizing your planning for the year, or reviewing your company objectives, ensure you are aligned with the latest trends and changes in the modern workplace.
It's essential to keep up with HR trends in your workplace to increase your chances of winning the battle for retention and meeting your people's needs. Each year, HR trends are changing and defining companies like yours. This is why it's better to be an early adopter than let the trends take you by surprise and realize you need to be aligned with the market or your competitors.
How to keep up with HR trends in your workplace
Before getting started with the HR trends that will define the workplace in 2023, let's see how you can effectively keep up with the latest HR news and trends. When you are working in such a complex and innovative industry, it might be challenging to stay updated with what's new.
Subscribing to newsletters you skim every once in a while will not cut it if you want to design a workplace that people love. Instead, I recommend you follow the voices shaping the HR industry. This list of the top 50 HR influencers of 2023 comes in handy if you want to know more about the most influential voices in the industry. We've grouped them into five HR categories so you can quickly spot the ones that answer your needs.
And for the days that keep you busy, we've compiled a list of 20 HR podcasts that will help you master the HR challenges of the year. All you have to do is pick your favorite episode, hit play, and carry on with your tasks. If you still need to decide how to keep up with HR trends, we recommend attending industry events like Unleash World 2023 or webinars.
Now let's dive into the four HR trends that will define your workplace in 2023!
What are the latest trends in HR?
HR tech, employee wellbeing, culture-as-a-service, people analytics, improving the employee experience, and Diversity, Equity, and Inclusion (DE&I) are some of the biggest HR trends in 2023.
This year might be particularly challenging for most companies as they are transitioning from a business growth phase to a business continuity one. In this context, people leaders will need to find the right balance between meeting employee needs and business requirements and managing cost savings and talent investments.
1. Company culture takes center stage
2023 is the year that brings new priorities to the executive agenda. Given that companies are still struggling because of the great resignation, quiet quitting, and massive layoffs, more and more leaders are taking a critical look at their culture.
Amidst the struggle to replace their people, many executives started looking for ways to understand, audit, measure, and improve their company culture. Often, this exposed toxic workplace behaviors and decreased employee morale and productivity. According to PWC, 66% of C-suite executives and board members believe culture is more critical to performance than the organization's strategy or operating model. Not just executives believe company culture is essential, but employees as well. The 'talent disaster' sparked by the great resignation has unveiled how important it is for people to be aligned with the company's mission and values and how positive, strong company cultures can easily attract and retain top talent.
Cultivating a positive and strong organizational culture is even more challenging in 2023 since teams are scattered across geographies and time zones. If this is the case for your organization, we recommend starting with a company culture audit and a strategy to improve it. This quiz that helps you assess the maturity level of your company culture is a good starting point.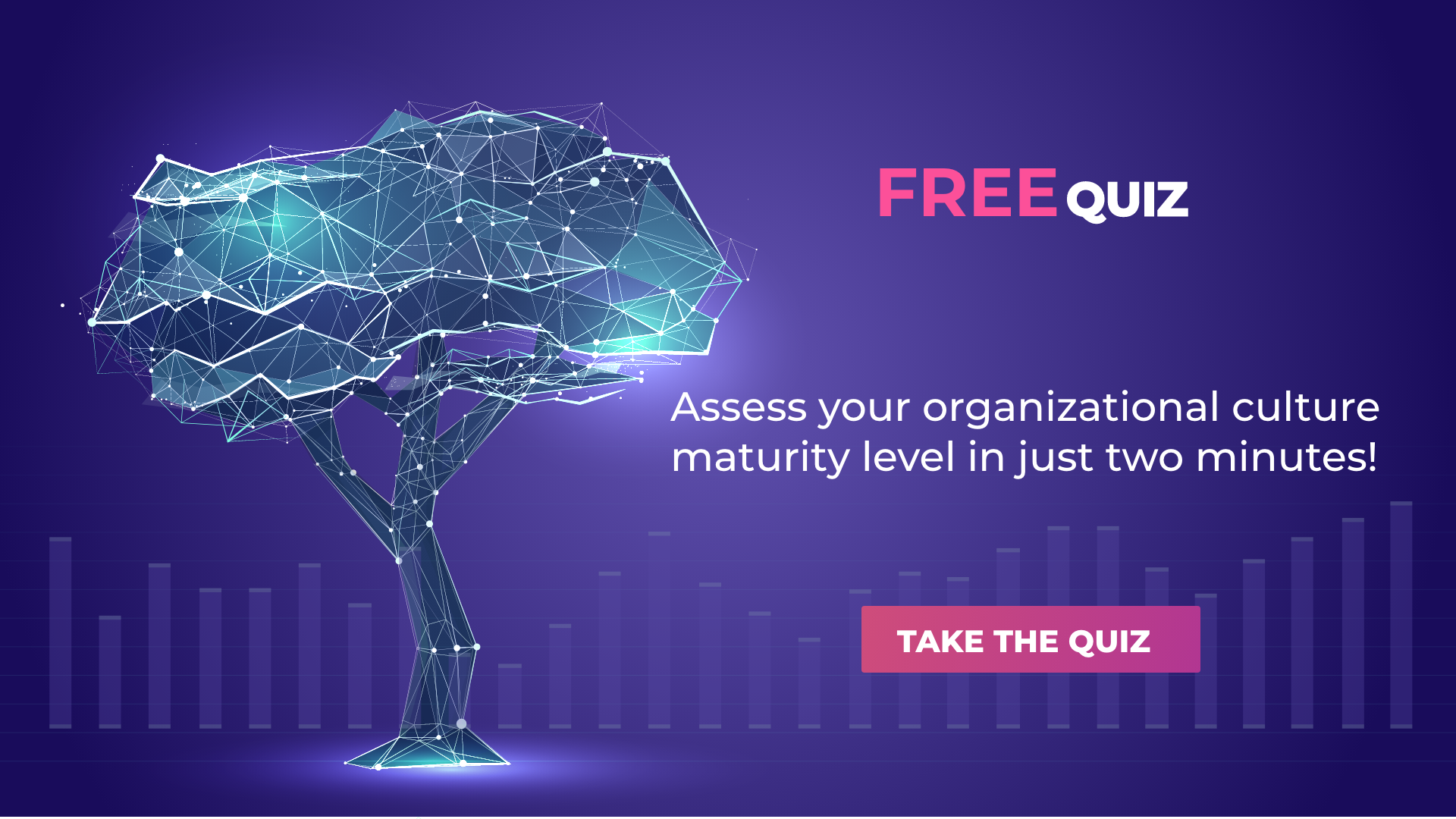 In 2023, the spotlight on company culture will only bring positive change in the modern workplace. Not only will your employee retention rate improve, but your people will also be happier and more engaged. This translates into increased motivation and productivity, and bottom-line growth.
2. Culture-as-a-Service enters the workplace
There's a new software category emerging in the latest HR technology trends: Culture-as-a-Service software.
Culture-as-a-service (CaaS) software solutions revolutionize modern workplaces with an advanced technology stack focused on enriching the employee experience, with the ultimate goal of strengthening the company culture. Such software solutions help executives and HR leaders understand, measure, and nurture their company's culture through comprehensive reporting dashboards, employee engagement features, and recognition and feedback tools.
CaaS solutions encourage employee interaction, giving meaning to digital interactions at work. Some of the main advantages of a CaaS solution include giving a shared purpose to people, growing employee engagement, creating alignment with company values, and increasing employee retention rate.
Many forward-thinking companies are already looking for a culture-as-a-service solution like Mirro to implement at a company-wide level. In 2023, it's time to do the same if you want to retain your people and attract new ones.
3. Offering a first-class employee experience
Long gone are the times when people were seen just as employees. In 2023, the workplace will become more about what it offers to people than about what people offer to it.
Workplaces need people to thrive; they don't rely solely on 'employees' or 'workers' but on individuals with their own needs that should be catered for.
Employee experience will be a top priority for 47% of HR leaders, in 2023, according to Gartner. The sooner executives and HR leaders understand how vital it is to engage their employees and meaningfully connect them, the better it is for both the company and its people.
In 2023, the classic employee benefits package gets an upgrade; during interviews, people will no longer focus on asking about the classic benefits, like a gym membership, fresh food at the office, or a private health care plan. Sure, traditional incentives are still nice to have and will continue to be requested across most companies and industries, but in 2023, the benefits package should be defined by flexibility. People want their benefits to be tailored to their own needs. For example, some may want to trade the gym membership for books or therapy sessions paid for by the company.
Of course, the companies that offer the best employee experience focus on more meaningful things than just offering cool perks. Public recognition, growth opportunities, rewards, employee upskilling, top-notch technology that's readily available to use, and a company purpose that aligns with that of its people are among the most important things people look for when switching jobs. A company that genuinely cares about its people will look for ways to offer them what they need.
This year, look for ways to amplify the employee voice. For example, give people a safe space to talk about how they perceive their work, involve them in workplace decisions, and empower them to set boundaries. These tactics will all prove to be very effective in increasing employee engagement.
4. Investing in employee wellbeing is the new normal
The discussion around employee wellbeing and mental health has only increased in the workplace, especially in the last few years. Both employees and companies will benefit from this, as modern workplaces can be quite stressful. When people are happy at work, they are more productive and motivated and are less likely to look for a job with a different organization. Additionally, the company's reputation is enhanced and the company's culture is healthier.
From an employee perspective, when leadership starts the conversation on wellbeing, it simply shows them that you care. Start by discussing with your people about stress and burnout, showing them the importance of their role, and educating them on how to set boundaries between personal and professional life. Ask them often what their ideal workplace looks like, and strive to get there.
Host internal meetings and events to discuss the importance of mental health and look for ways to determine the stress level related to work your people might experience. Then, help them manage the stress and give them time to recover.
How are you showing your employees that you care about their wellbeing?
Future HR trends that should be on your radar
In 2023, HR leaders will focus mainly on successfully managing talent shortages, enhancing the employee experience, strengthening the company culture, meaningfully connecting their people, and streamlining the recruiting process.
Regardless of what HR trends you choose to follow, in 2023, give your people a great company culture, so they'll have something positive to talk about.
How will you integrate these HR trends into your people strategy for 2023? Let us know by tagging us on a Linkedin post, and we'll happily join the conversation! And if you want to be the first to read our newest content, subscribe to our newsletter. We'll only reach out once a month and promise it will be meaningful!